First, why do we celebrate Pancake Day?
Traditionally, Pancake Day, or Shrove Tuesday, is a religious celebration that marks the last day before Lent for Christianity. It began when Christians needed to clear their cupboards of food before the 40-day fasting period, so they would combine their ingredients to make batches of pancakes.
Shrove Tuesday takes its name from an English term, 'Shrive', which means to confess sins and receive absolution for them. In a very old tradition, Christians would be called to confession by the ring of a bell (known as the pancake bell).
In the modern day, traditions have altered somewhat and Pancake Day is now also celebrated across the world, from those who don't practice the faith. With a wide variety of toppings and flavours available, many restaurants have taken the opportunity to get commercially on-board with the day and it's popularity continues to grow.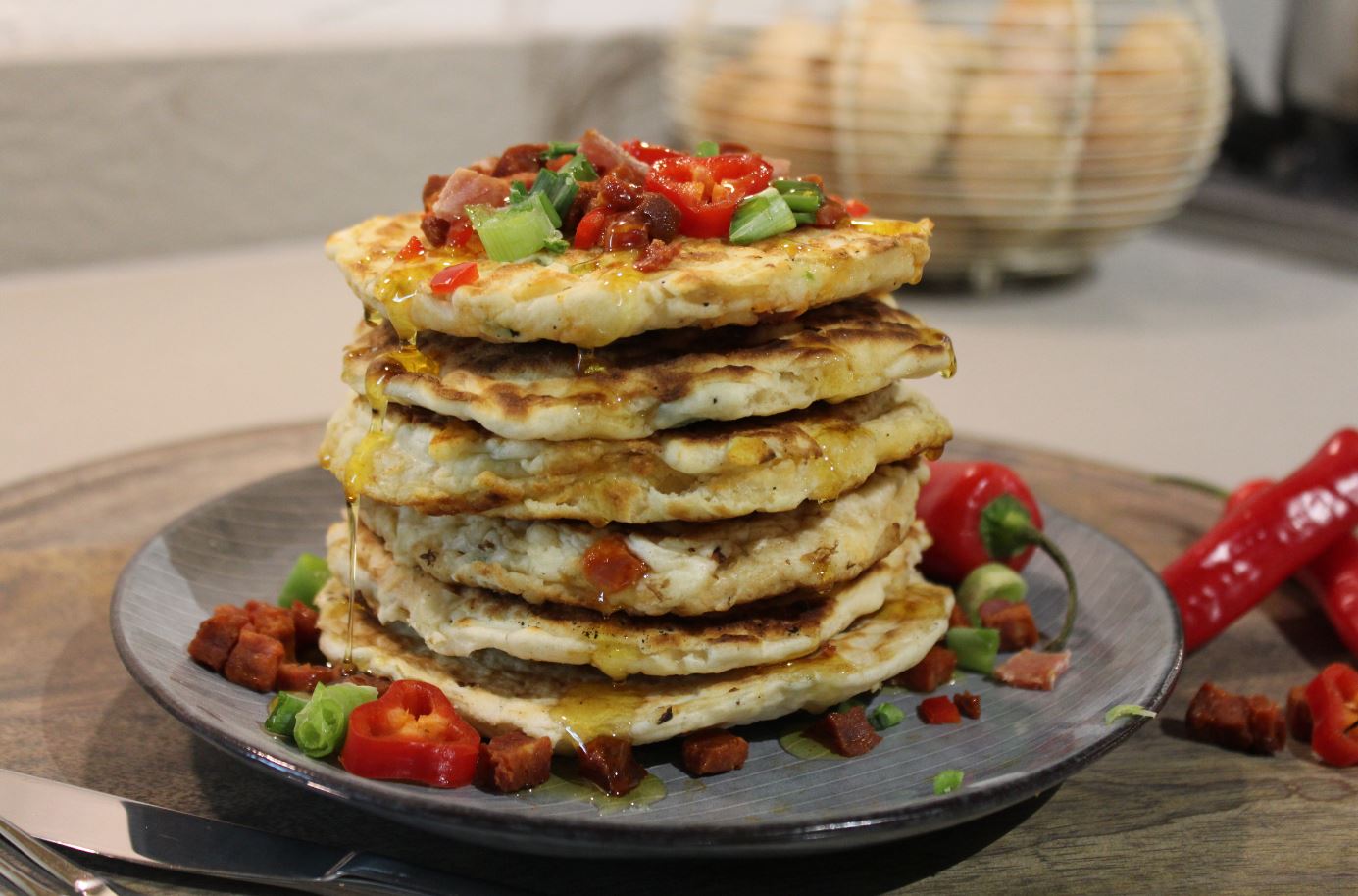 Savoury brunch pancakes
Bring some heat to your Pancake Day brunch with our Chorizo, Cheese and Spring Onion Pancakes, topped with Chilli Butter, Bacon and Golden Syrup (trust us, it works).
You will need:
For the pancakes:
◦ 200g plain flour
◦ 1 tbsp Baking Powder
◦ 1 large egg
◦ A pinch of salt
◦ 300ml Semi-skimmed milk
◦ Diced chorizo (spicy or mild, and amount depending on taste preference)
◦ Spring Onion (amount depending on taste preference)
◦ Unsalted butter (to line the pan)
◦ 50g grated cheese (some can be kept for topping if preferred)
For the topping:
◦ 50g salted butter
◦ 1 red chilli pepper (finely diced)
◦ 4 rashers of bacon (cut into small pieces)
◦ Golden syrup (to taste)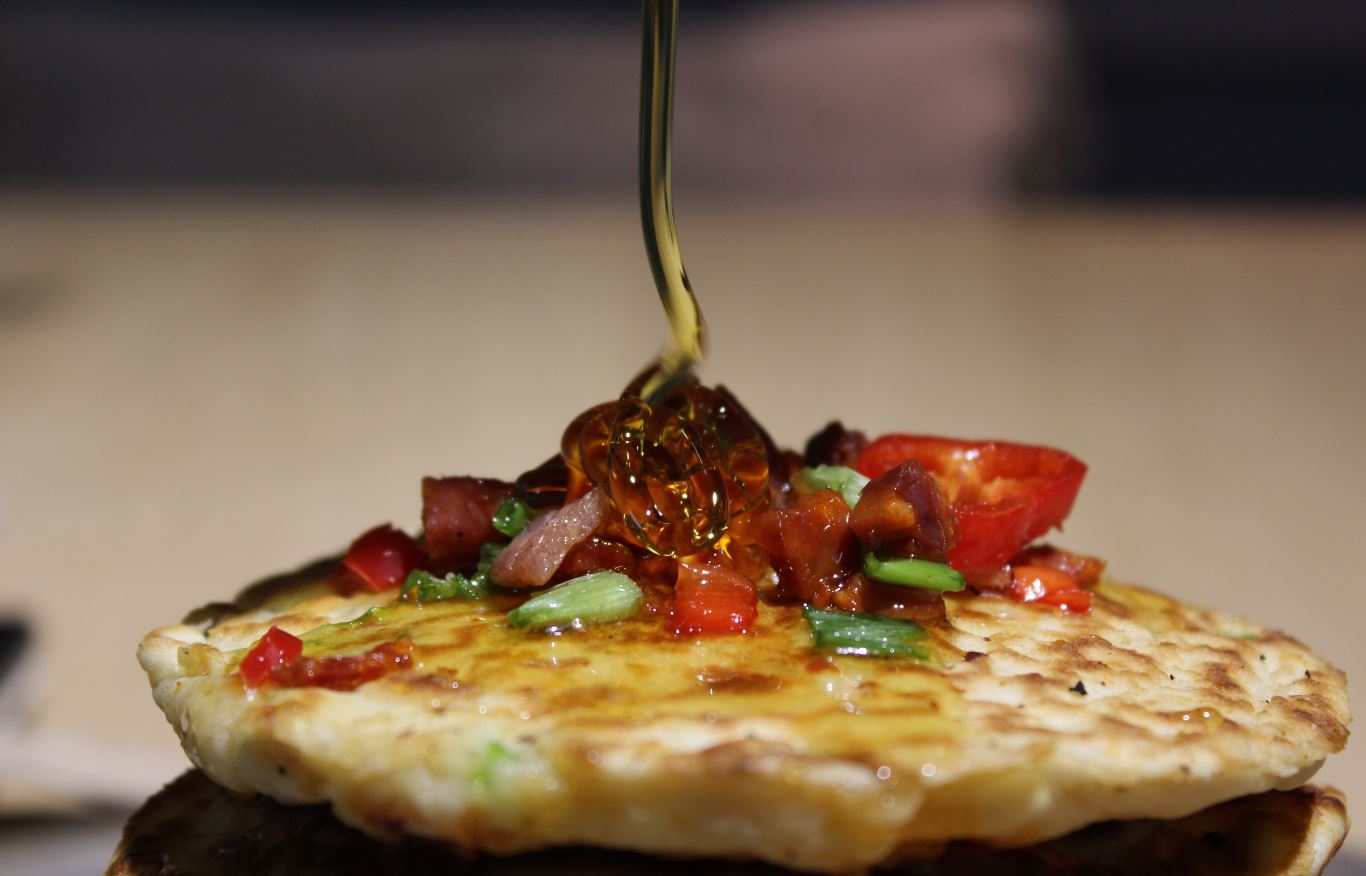 Step 1
First, make your chilli butter so it will have time to set.
Allow your butter to reach room temperature, then mix together with your finely chopped chilli (remove seeds if you prefer less heat).
Place in a dish and pop in the fridge to firm-up while you make your pancakes.
Step 2
Next, dry fry your diced chorizo for 1-2 minutes (no oil required as the chorizo will release its own).
Then, transfer it across to a plate to rest. If you would prefer, the plate can be lined with kitchen roll/paper towels to allow excess oils to be soaked up.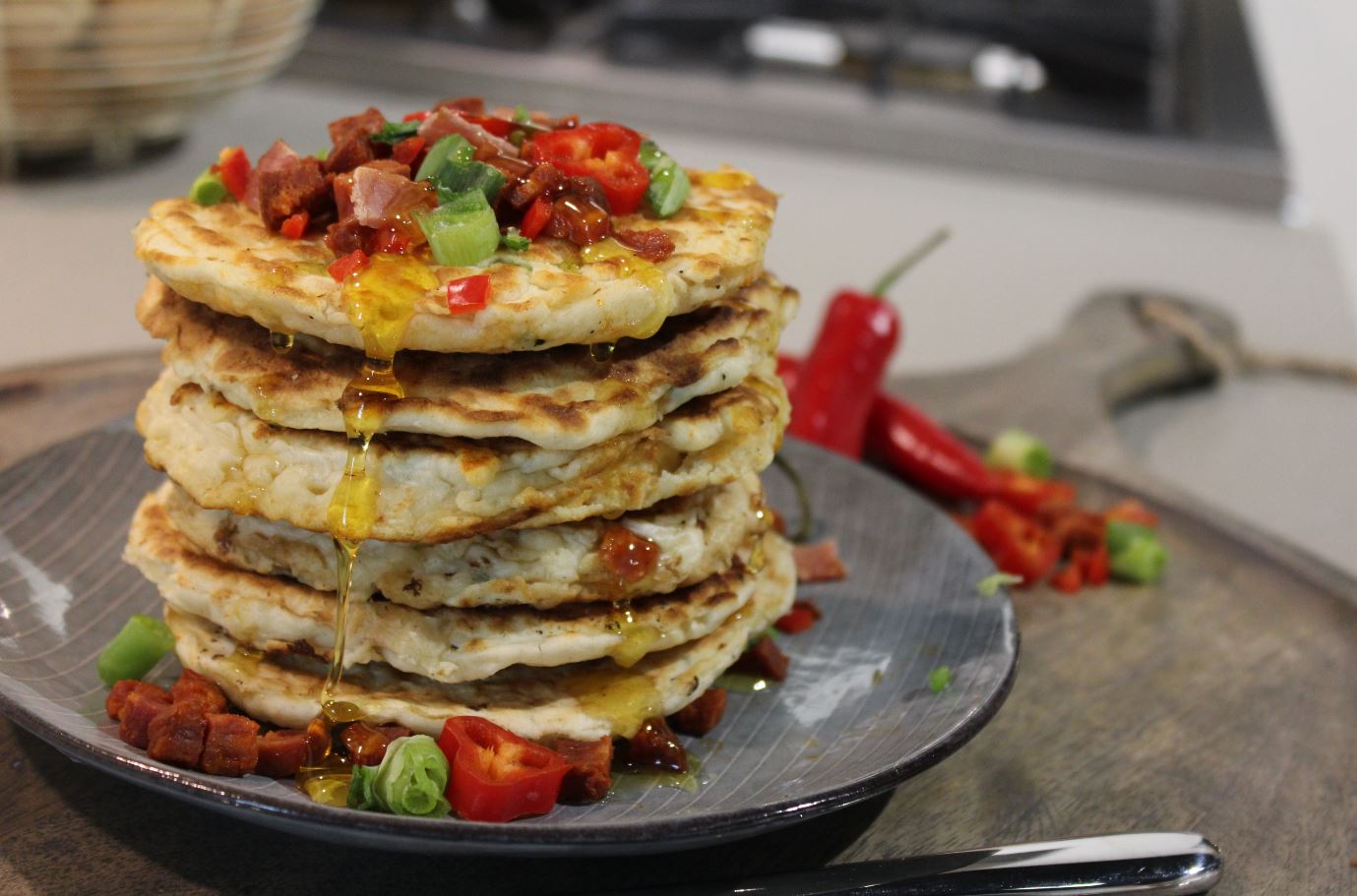 Step 3
Next, it's time to make the pancake batter.
In a large mixing bowl, whisk together (using a whisk or fork) your flour, baking powder, egg and pinch of salt. As you whisk, gradually add the milk until you have a thick batter. Make sure you don't over mix or you risk loosing the pancakes fluffy texture.
Now, add 3/4 of your spring onion and half of your cheese and mix together.