Introducing The 1909 Features
From a kitchen island with tailored display shelves, to seating with integrated storage, there are so many beautiful yet functional ways a 1909 kitchen can be made unique for you and your home. And, why let the character of 1909 end at the boundaries of your kitchen? With an adjoining boot room or a floor-to-ceiling bookcase unit, the sophistication of 1909 can be continued to other rooms of your home for a cohesive style. Let us introduce you to the 1909 Features that could transform your space…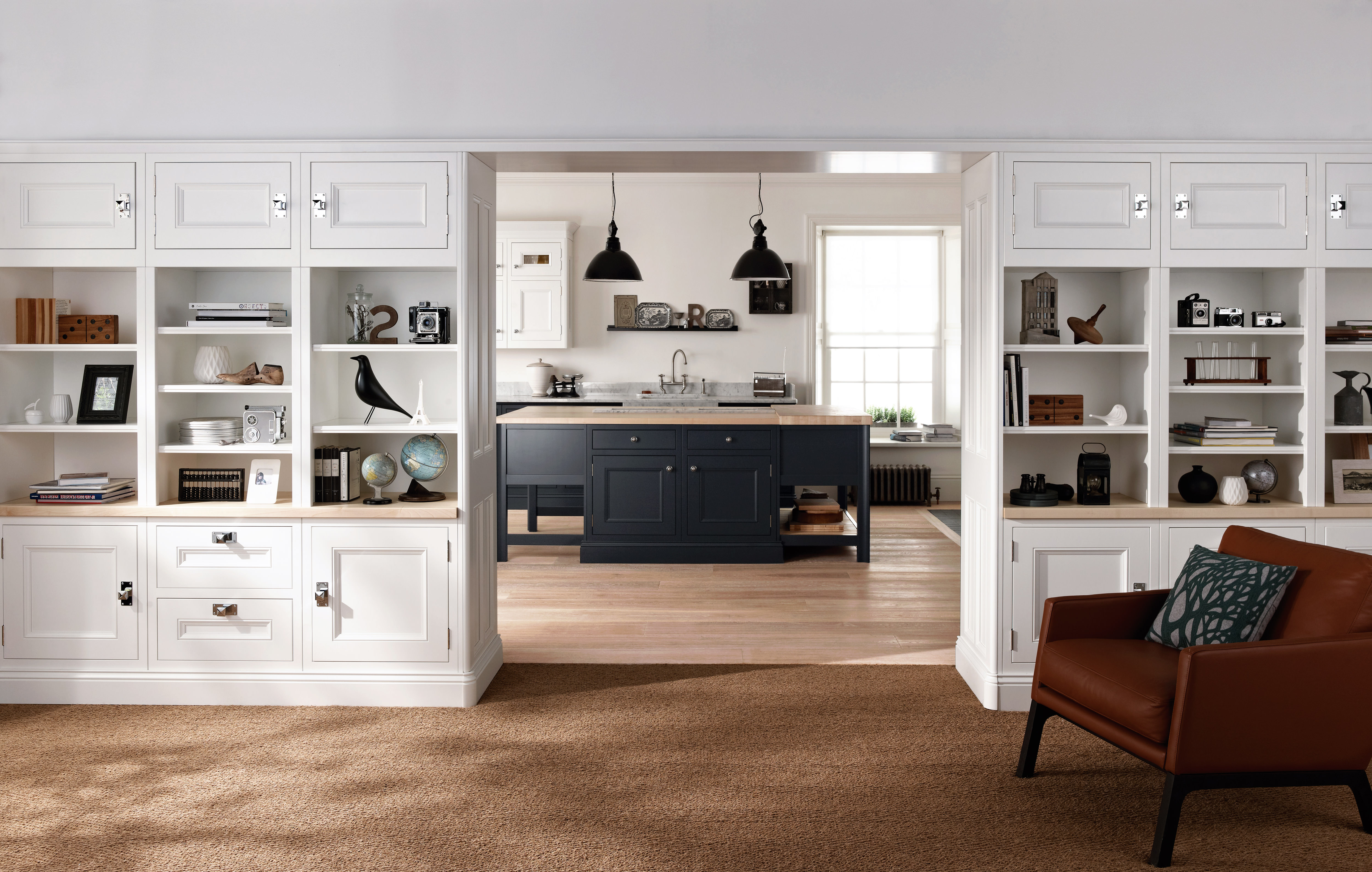 1. The Traditional Pantry
A traditional pantry is a stunning 'wow factor' feature. Designed with kitchen cabinetry, the pantry can either be integrated into the kitchen units or free-standing, with the choice of classic larder doors or bi-folding doors to neatly store kitchen items away.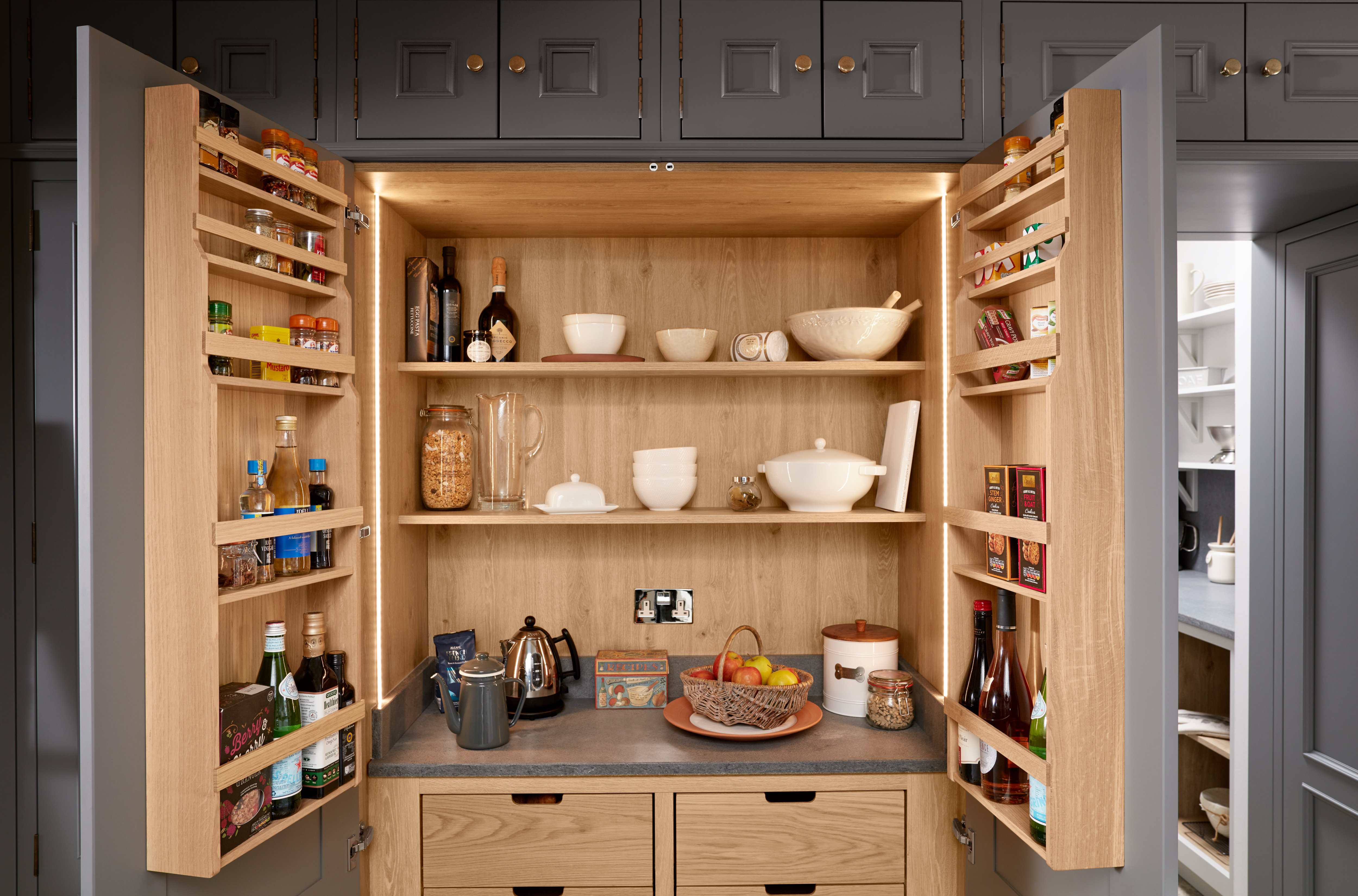 A 1909 Integrated Pantry in our characterful Georgian kitchen.

1909 pantries designed by Heart of Your Home Kitchens, Jolly Kitchens and Sheraton Interiors.
The internals can include a selection of shelving styles to tailor organisation to your requirements and the added workspace can be used to store electrical appliances or create a beautiful breakfast/coffee station. Classic doors can also be utilised to include further storage, perfect for displaying herbs, oils and condiments.
For the ultimate eye-catching feature, LED lighting or spotlights can also be included to illuminate the internals and bring an extra warmth to the design.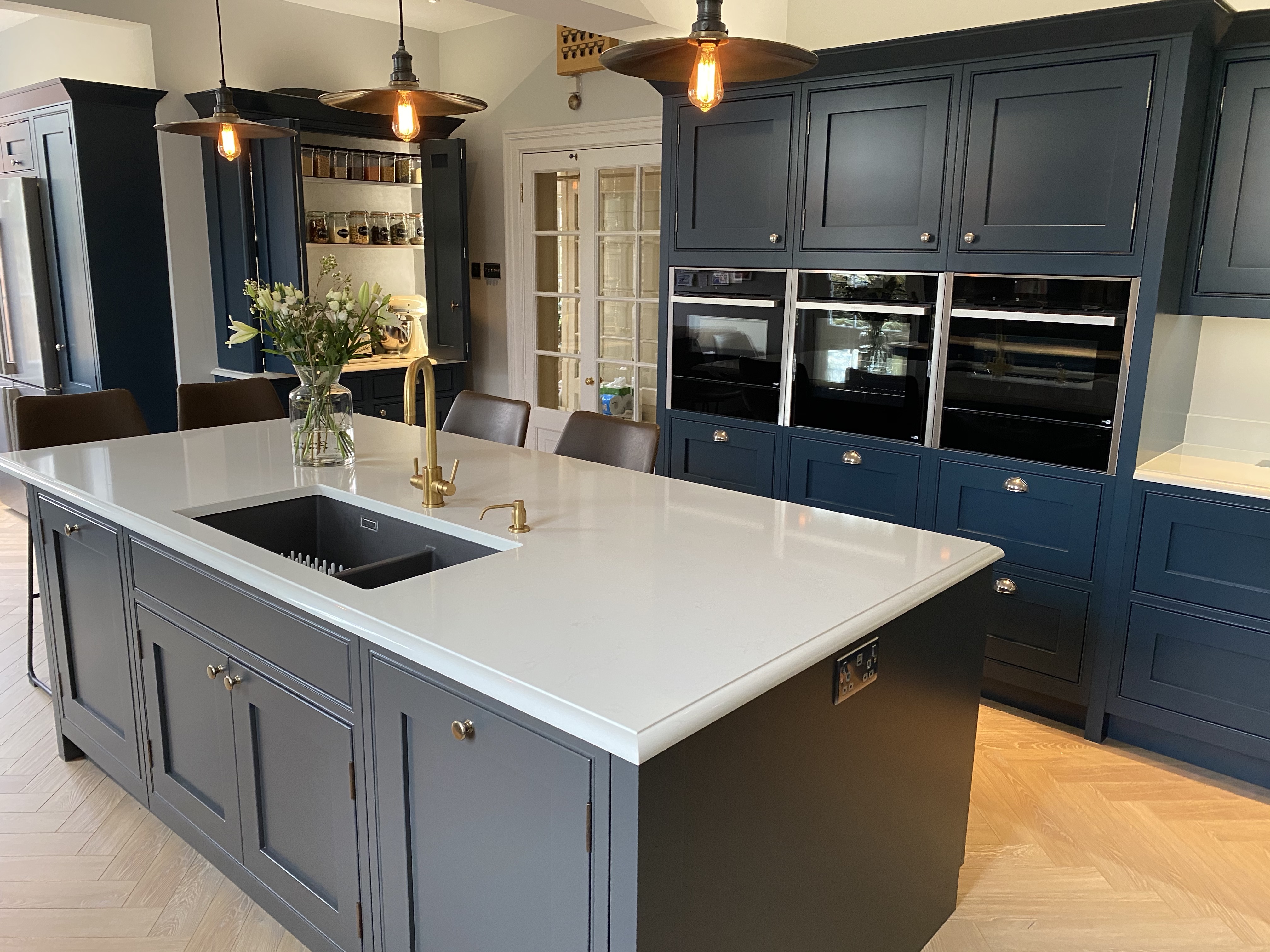 A 1909 Stand-Alone Pantry from The Little Kitchen Factory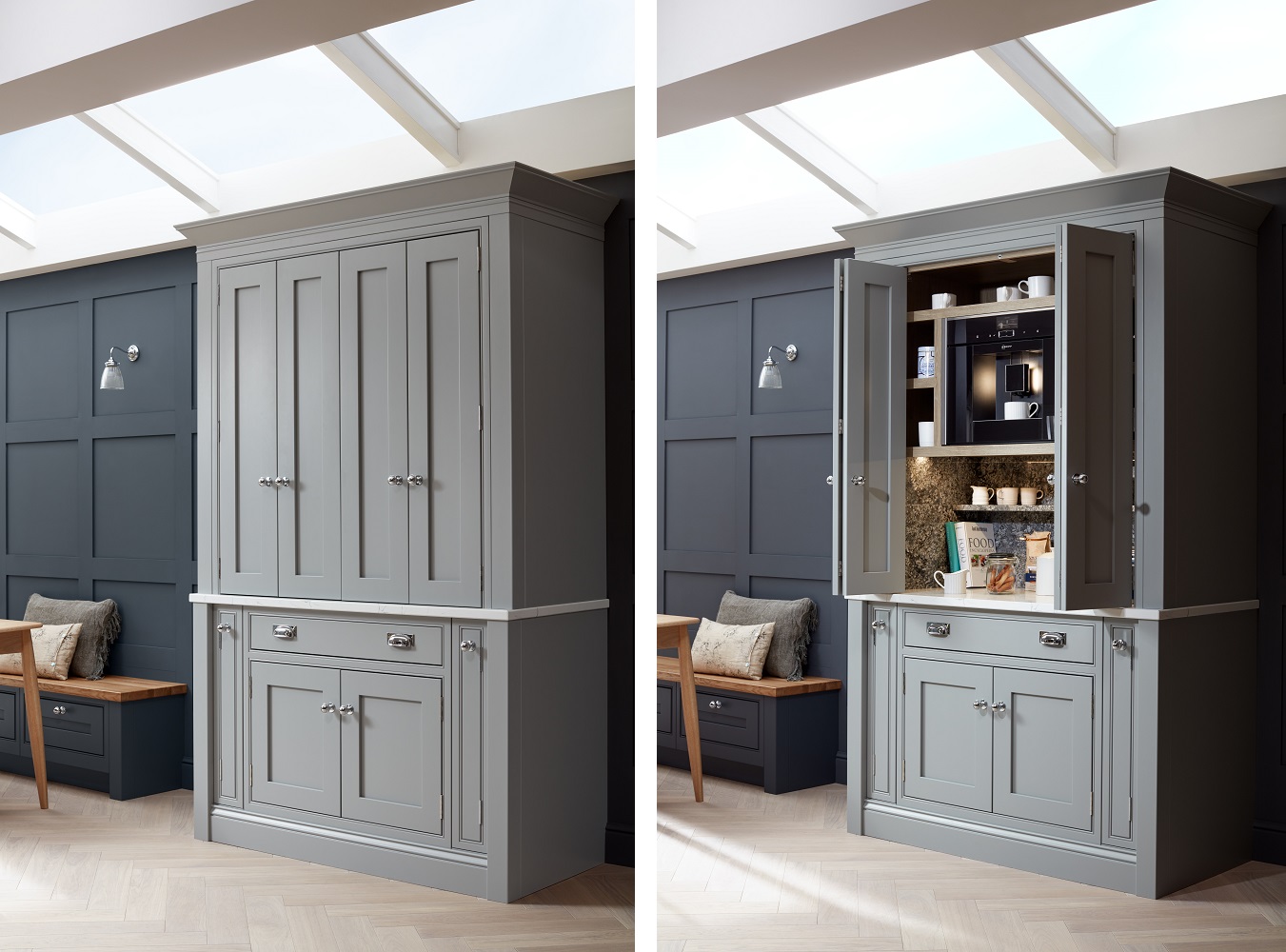 1909 Ovolo Stand-Alone Pantry in Silver Grey
2. The Walk-In Pantry
A walk-in pantry, traditionally a small room between the kitchen and dining area, is a separate, walk-in space/utility room that leads off from your kitchen and functions as a storage area. If you have an unusual/awkward footprint, or a kitchen with an alcove, our specialist 1909 retailers can help you to utilise the space, transforming it into a beautiful walk-in pantry to house all of your kitchen essentials, whilst creating a sophisticated, classic statement.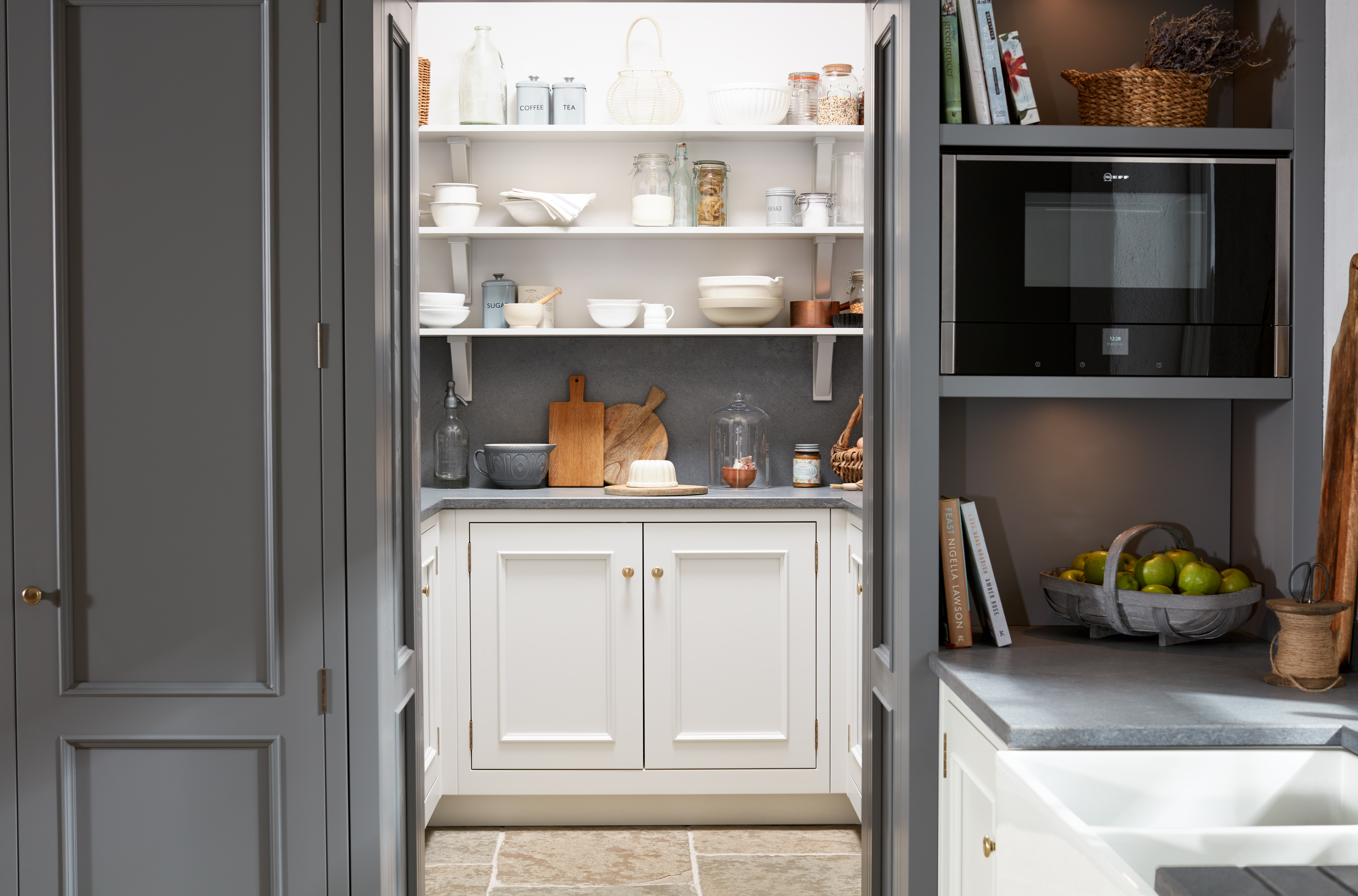 A 1909 Walk-In Pantry from our Georgian kitchen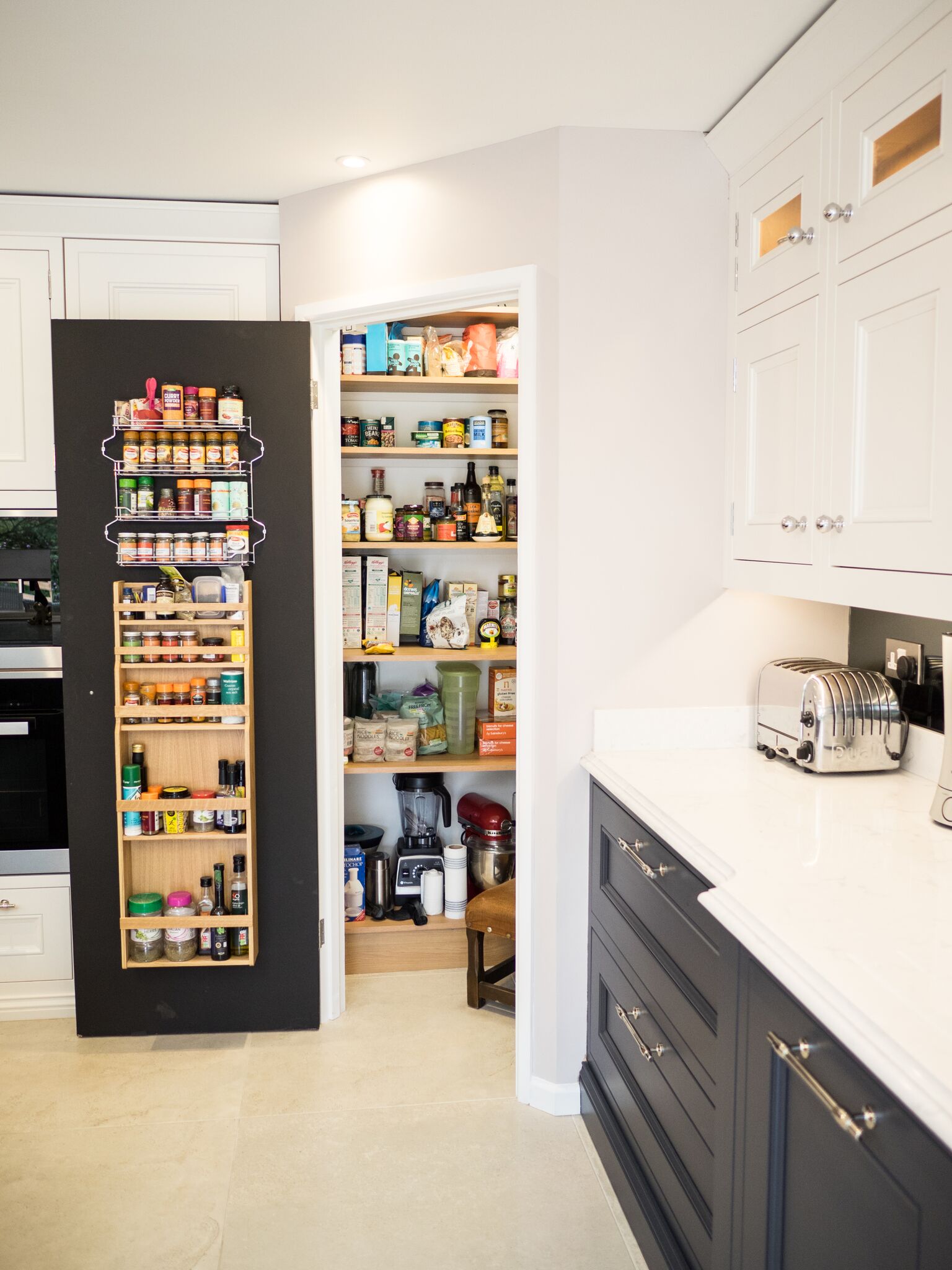 A Walk-In Pantry from Kitchen Ergonomics
3. The Boot Room
An adjoining boot room is a great way to continue the 1909 design through to another area of the home, creating a dedicated area for coats and shoes with a nod to period style.
The below design from our Half Pencil & Scalloped kitchen uses 1909 units to create a boot room bench, including dove tail drawers for clever under-seating storage.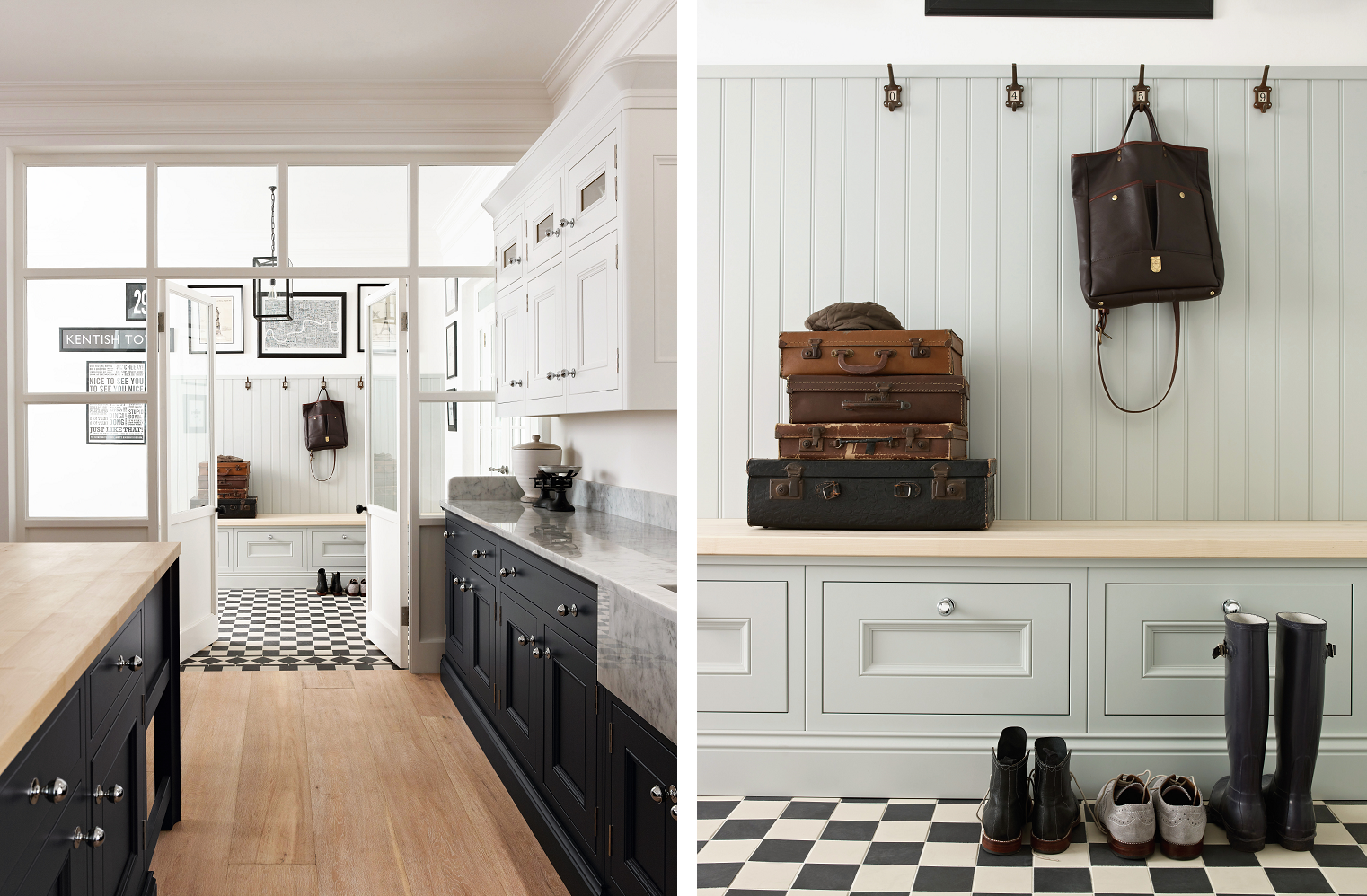 1909 Half Pencil & Scalloped Boot Room in Partridge Grey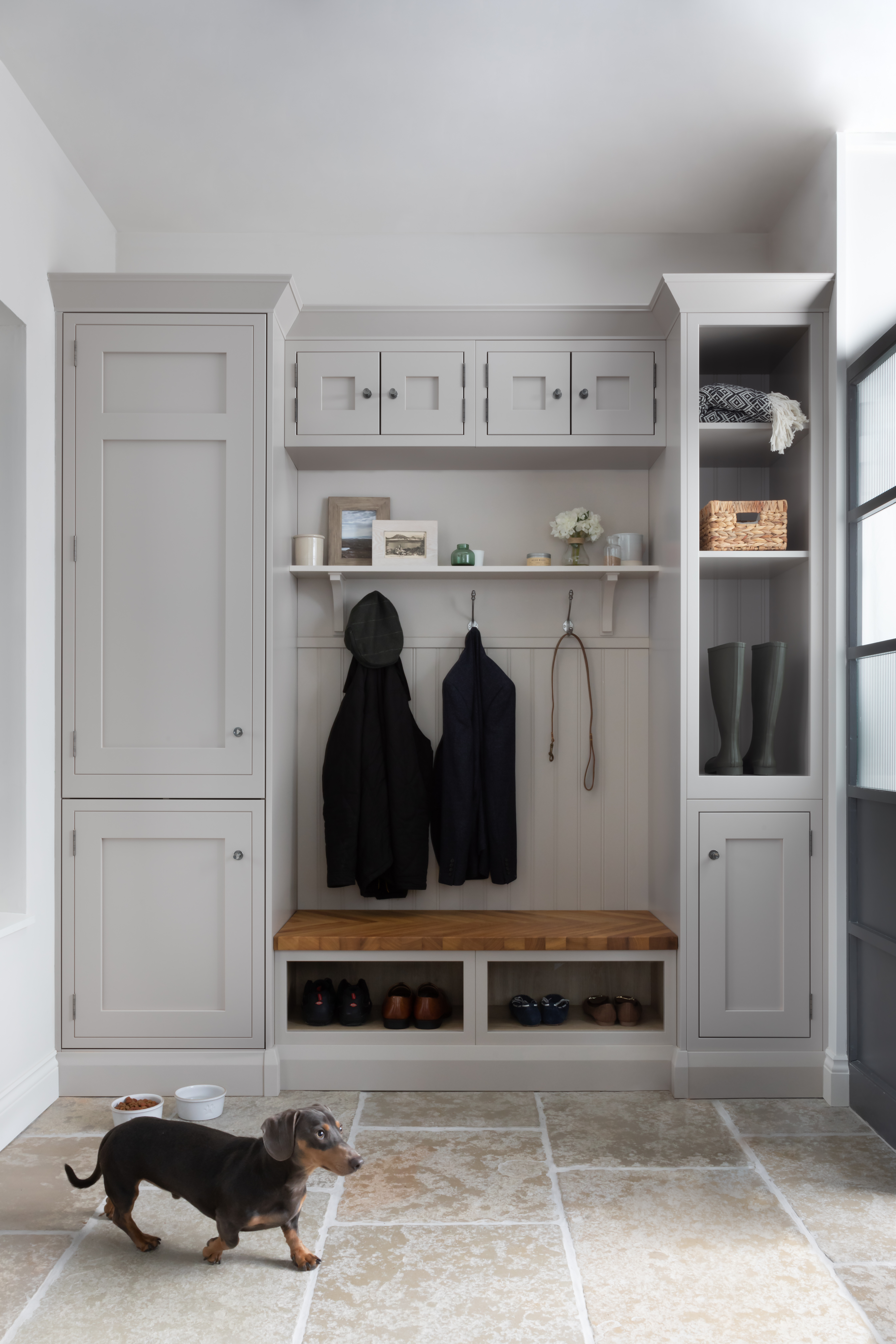 1909 Inframe-Shaker in Cashmere – Photography by Paul Craig
The perfect balance of aesthetics and practicality, a boot room will give people a warm welcome to your home and will help to maintain organisation in a space that can easily become cluttered- especially for those with big families!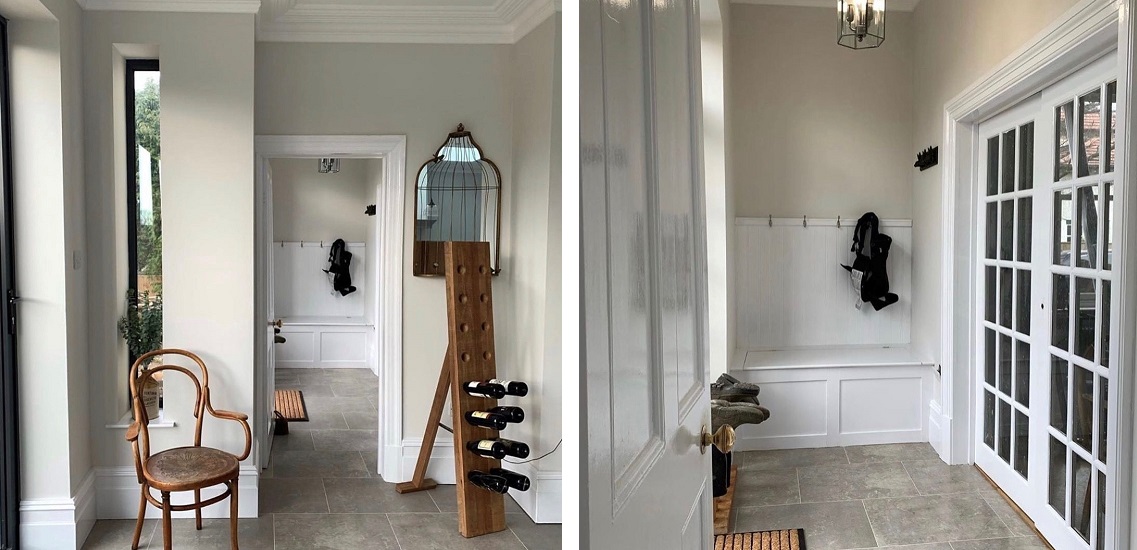 1909 Boot Room from @restoringcorbycroft on Instagram- showing an alternative storage option
4. The Wow-Factor Drinks Cabinet
As the saying goes, it's what's on the inside that counts, but in the case of our Gin Cabinet, we'd have to argue that what's on the outside is pretty special too.
Featuring the brand-new three panel door as part of our in-frame Shaker and Ovolo ranges, our 1909 drinks cabinet would make a stunning accompaniment to your 1909 kitchen and bring luxury to every night in.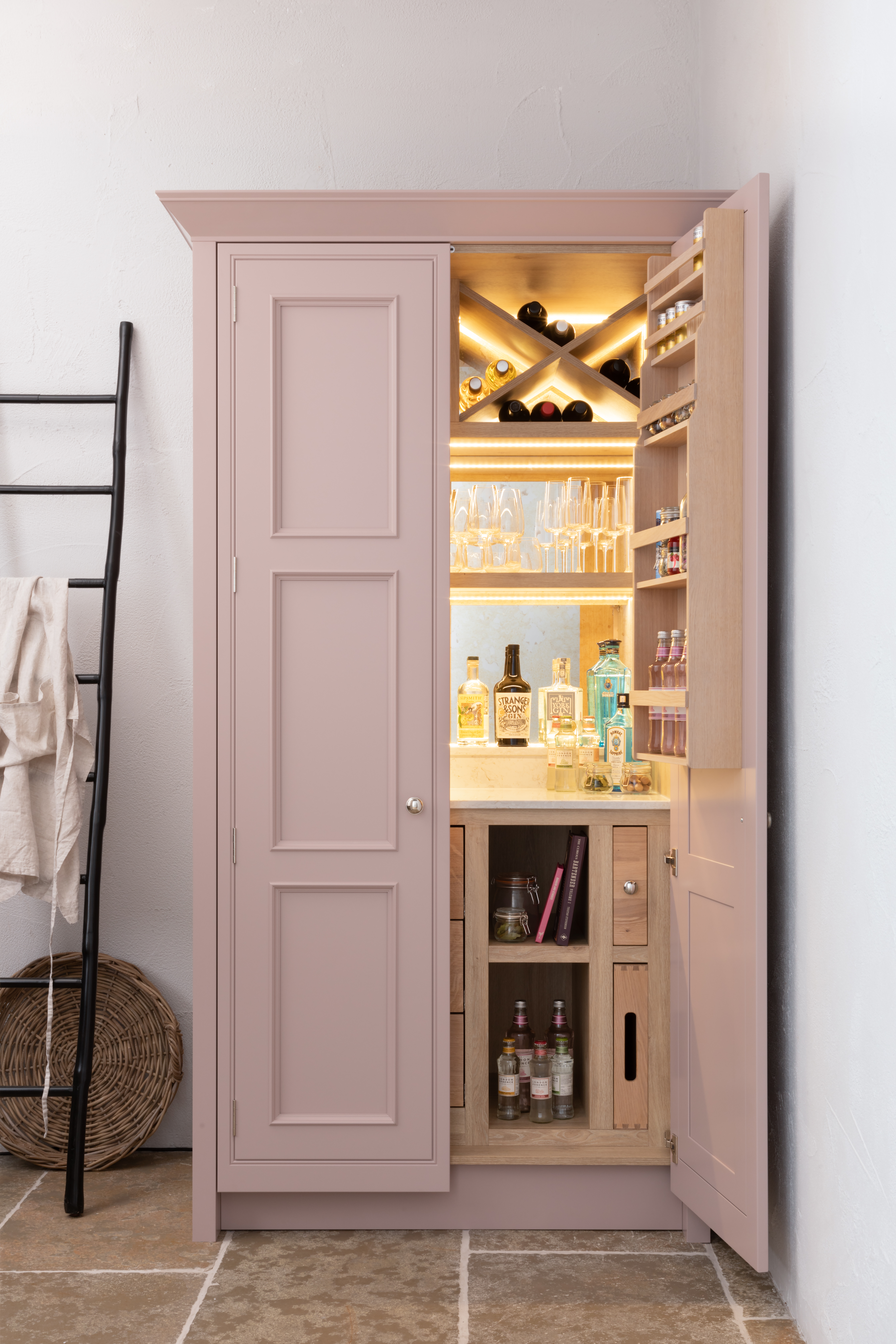 1909 Drinks Cabinet in Dry Rose
Giving a nod to heritage style, a drinks cabinet demands the attention of the room with its traditional sophistication.
Displayed here in our soft Dry Rose shade to bring a playful edge to the statement piece, the cabinet is also available in a choice of 35 exquisite colours from our painted palette, so you can choose to match it to your 1909 kitchen for a seamless flow, or opt for a complementary colour to create a two-tone look and emphasise the free-standing nature of the cabinet.
5. The Utility
Often thought of as an extension of your kitchen, we believe this multi-functional space deserves the same consideration and style as your main kitchen design.
If your home has the space, a tailored 1909 utility design is perfect for hiding away bulky appliances, like a washing machine/tumble dryer, and other household items that you don't want cluttering up your main kitchen area. And, with an integrated sink, a utility room is great for containing messy jobs, such as cleaning muddy boots (or paws!) and keeping them separate from your food preparation and dining areas.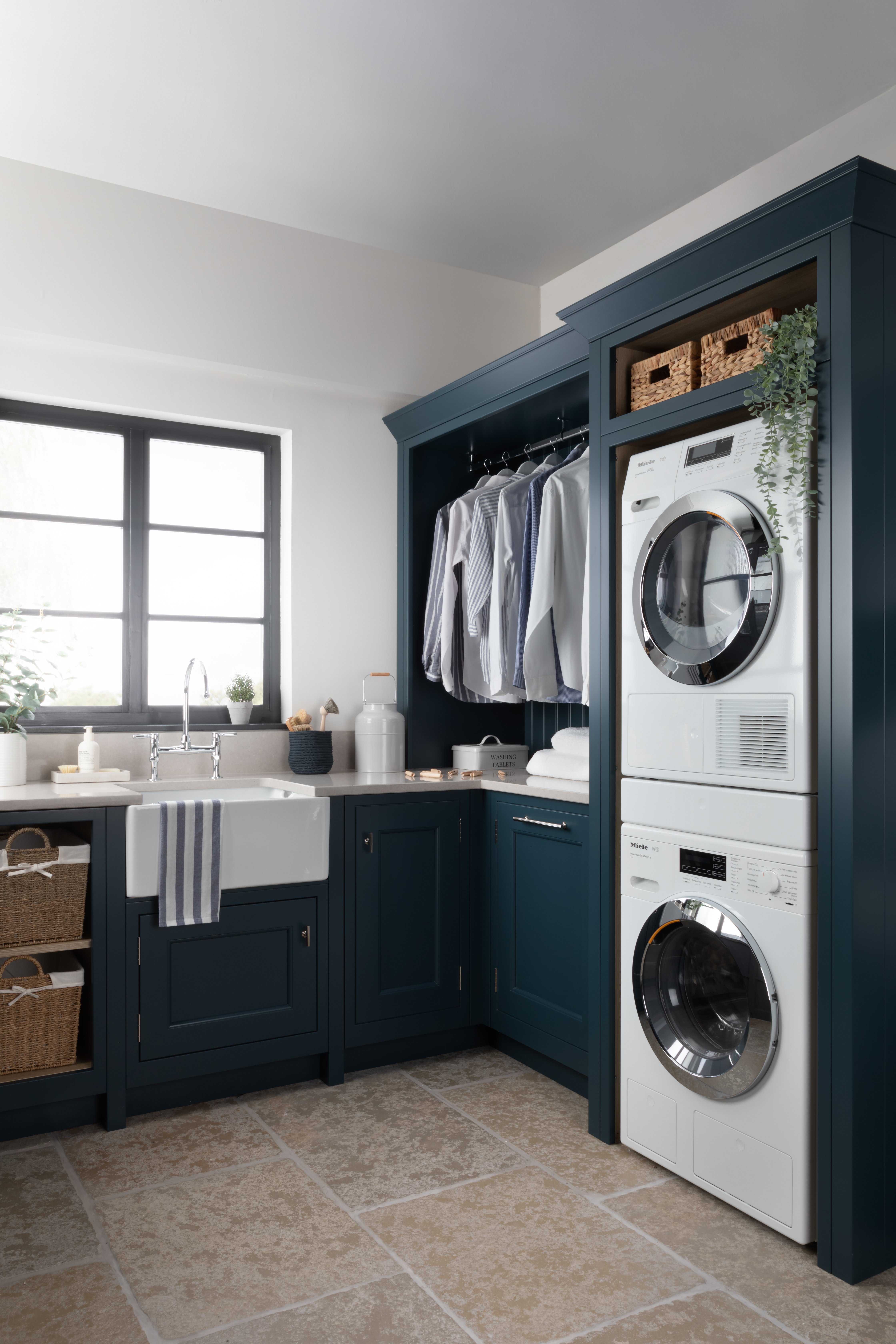 1909 Inframe-Shaker Utility in Hartforth Blue – Photography by Paul Craig

6. The Kitchen Island Bespoke Book Shelf
A bespoke bookshelf is a great way to make a feature of the end of your island and the perfect place to display your recipe book collection.
If you're searching for a way to bring an extra boost of personality to your design, a book shelf is the perfect solution, whilst still allowing you to use the space as a breakfast bar, as demonstrated in our Slab kitchen, pictured below.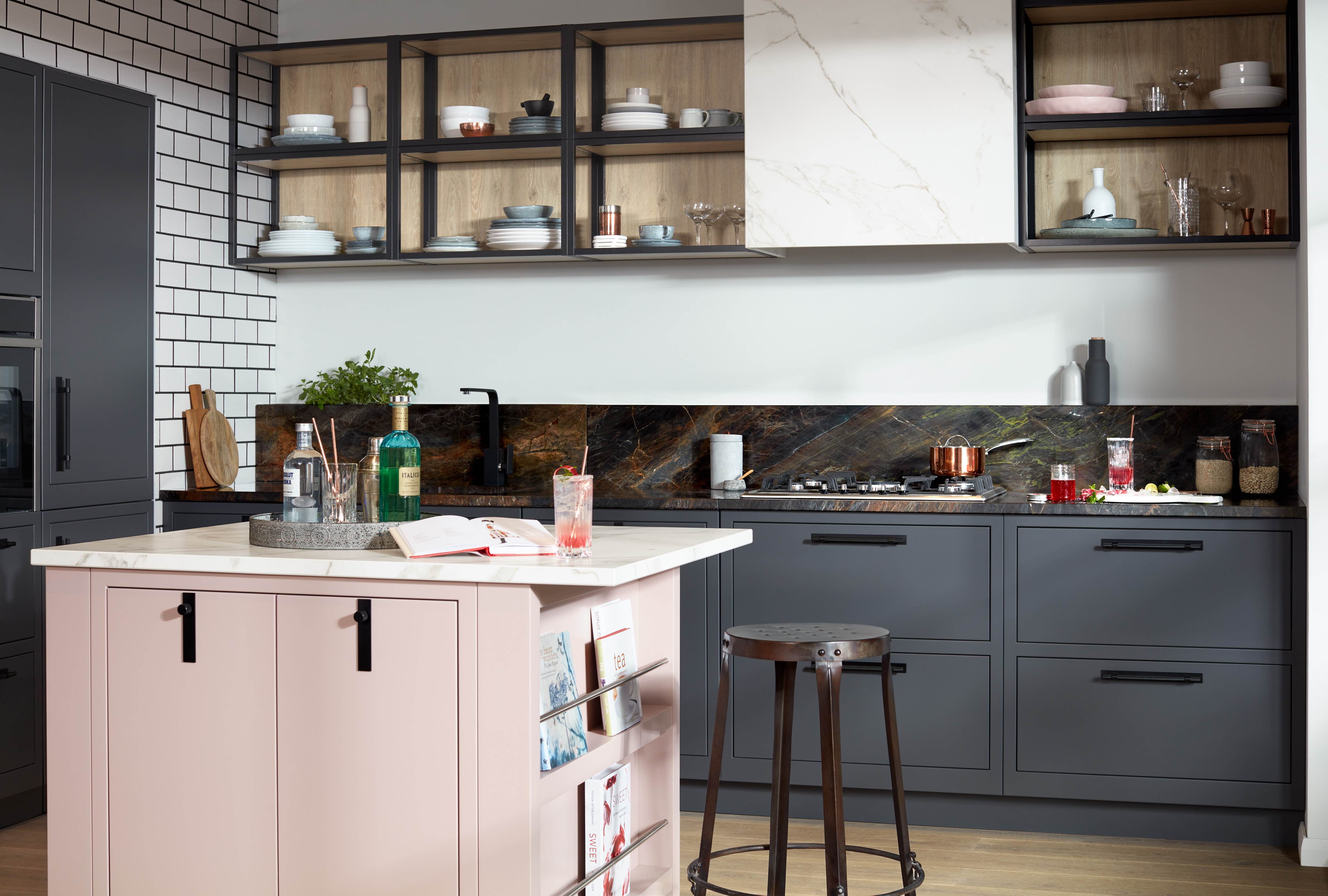 1909 Bespoke Book Shelf as part of a Slab Island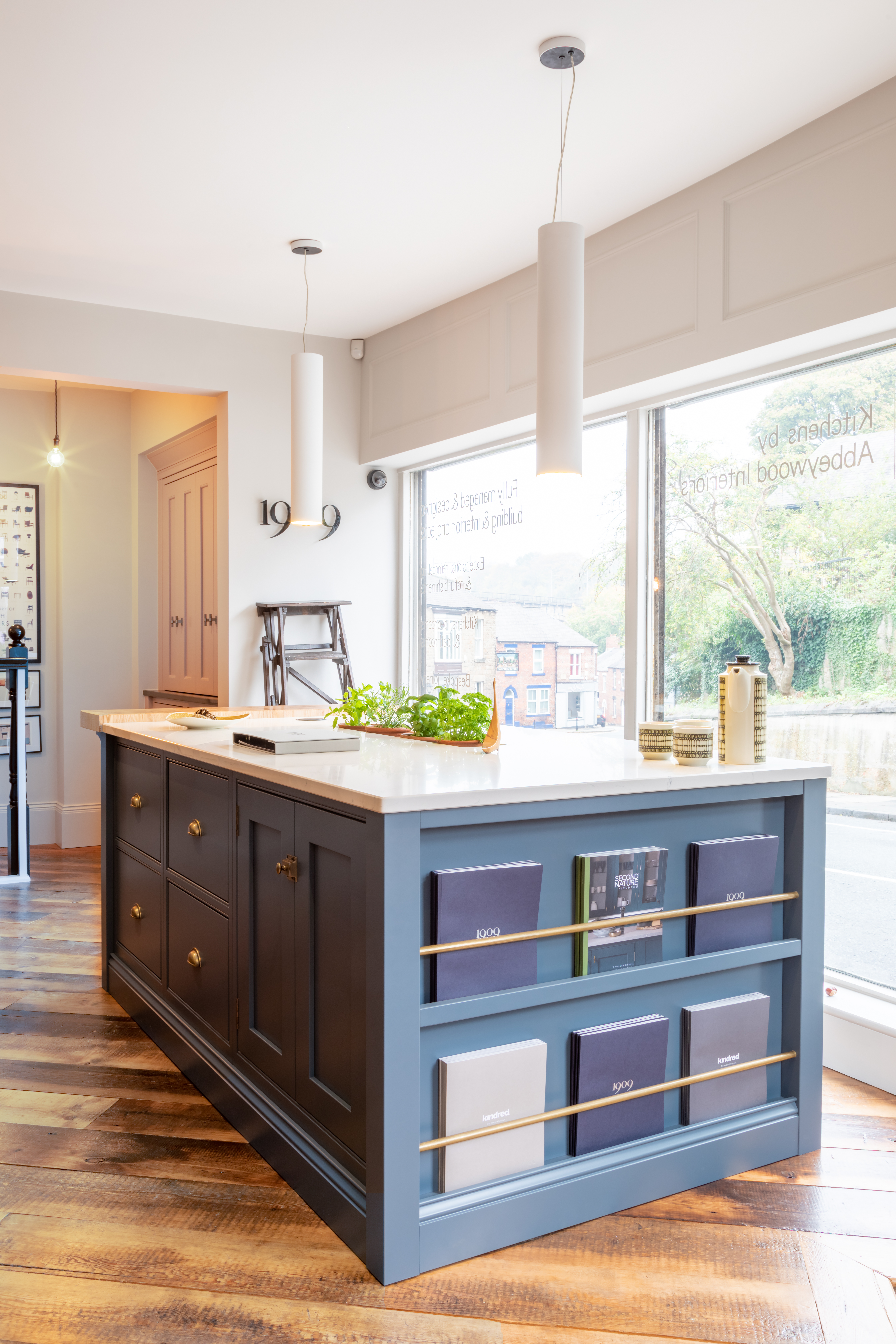 Bespoke bookshelf display from the 1909 Kitchens by Abbeywood Durham Showroom
7. The Bespoke Bookcase/Shelving Unit
A bookcase is a versatile piece of furniture that can be used as a display unit, storage and as a partitioning feature to break-up an open-plan space (as shown below) or create zones. A 1909 bookcase can be designed with you in mind, utilising floor-to-ceiling space to maximise storage and combining a range of drawers, cupboards and shelves to store away your belongings, just the way you want to.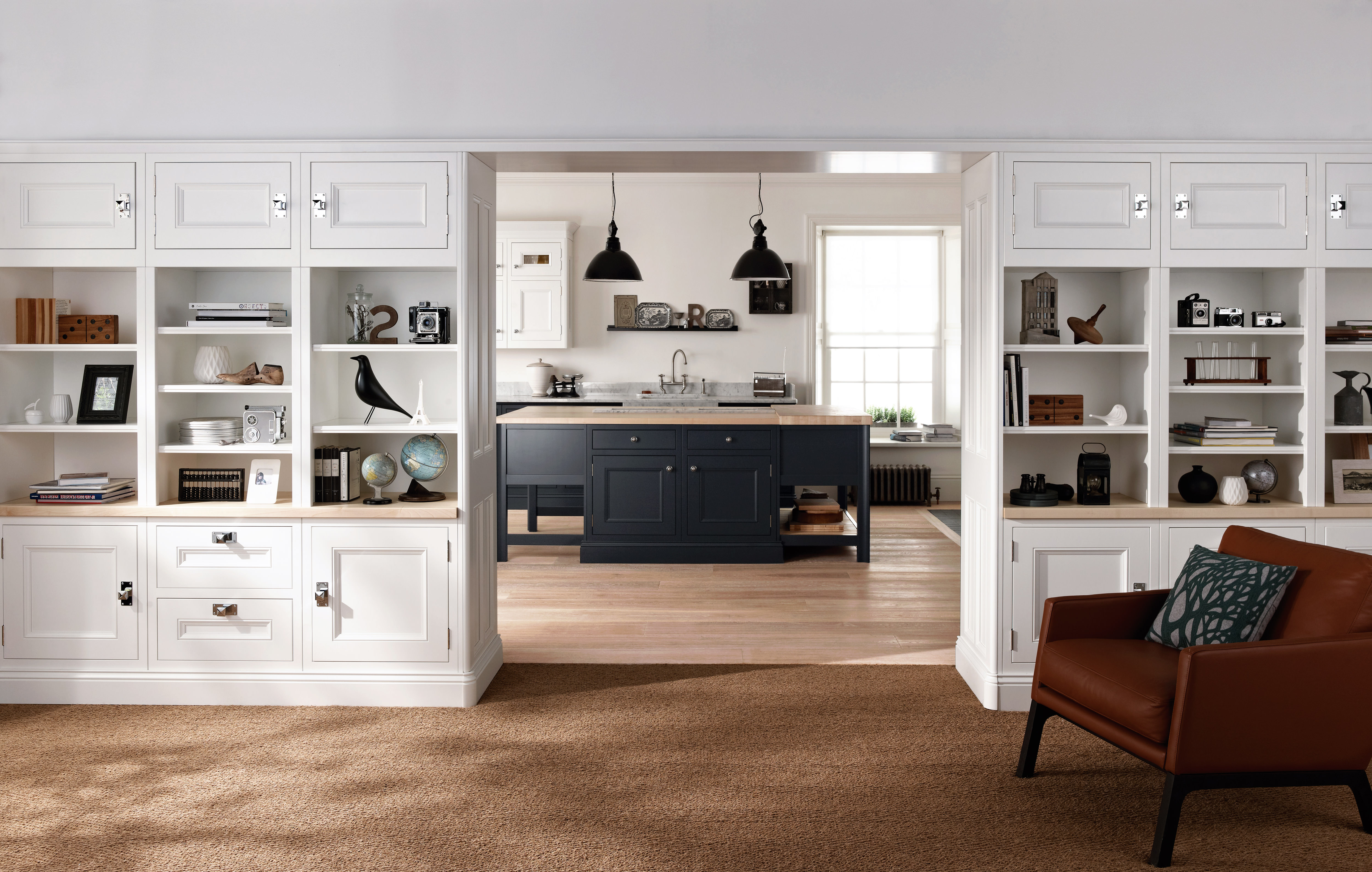 A Bespoke Half Pencil & Scalloped, Floor-to-Ceiling Bookcase
A bespoke bookcase unit is the perfect way to continue the sophistication of 1909 beyond your kitchen, creating a cohesive flow between rooms in your home.
8. The Feature Mantle
A Mantle is an instant focal point in any kitchen design, as an elegant, eye-catching way to frame a range or cooking area. It designates a clear cooking station, helping to zone your kitchen whilst creating a stunning feature.
For the ultimate 'wow factor', pair with a statement splashback as shown below in our Half Pencil & Scalloped kitchen design.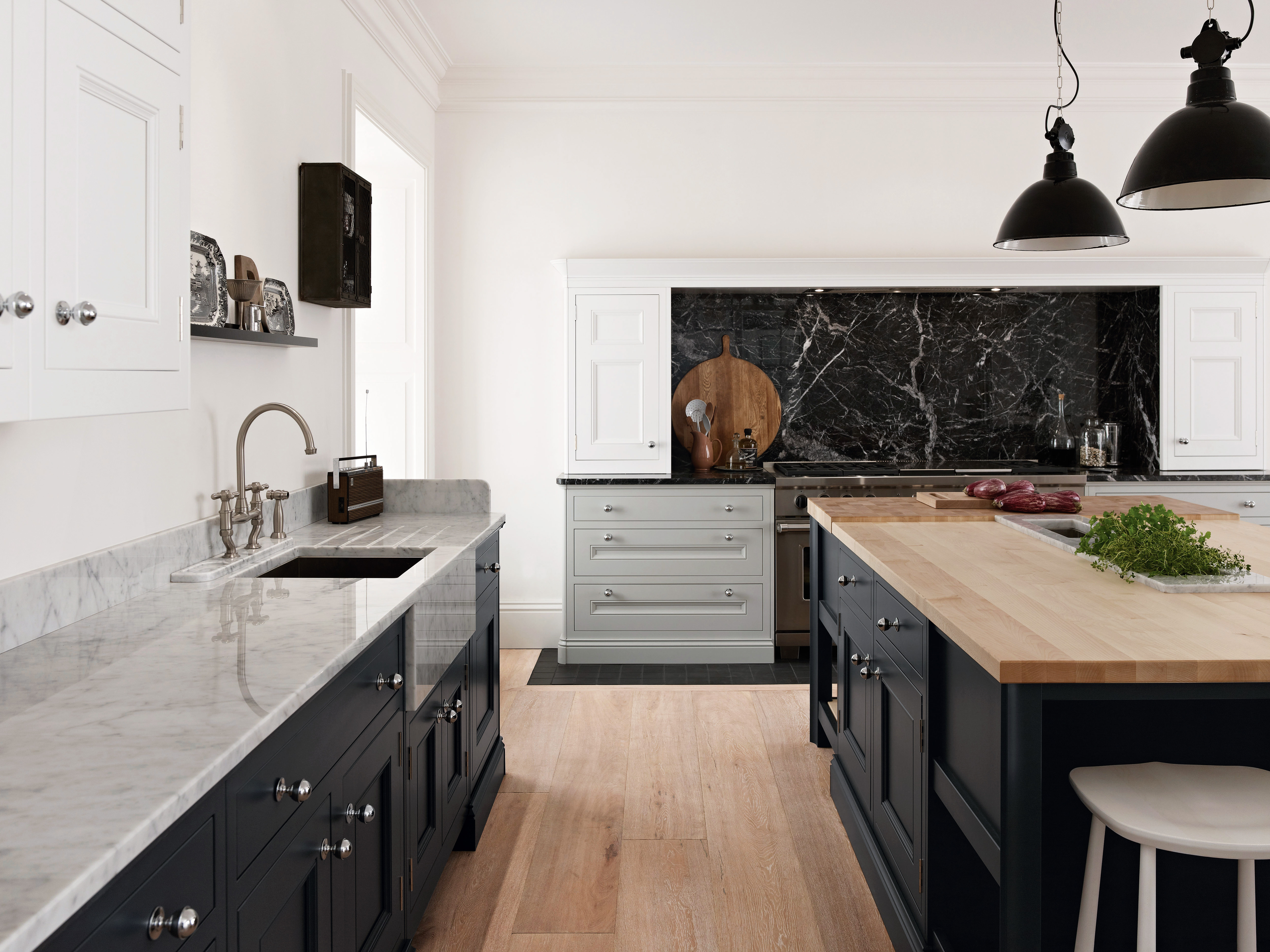 The 1909 Half Pencil and Scalloped Feature Mantle
The mantle can also be designed with storage at either side, adding to the practical value and creating satisfying symmetry.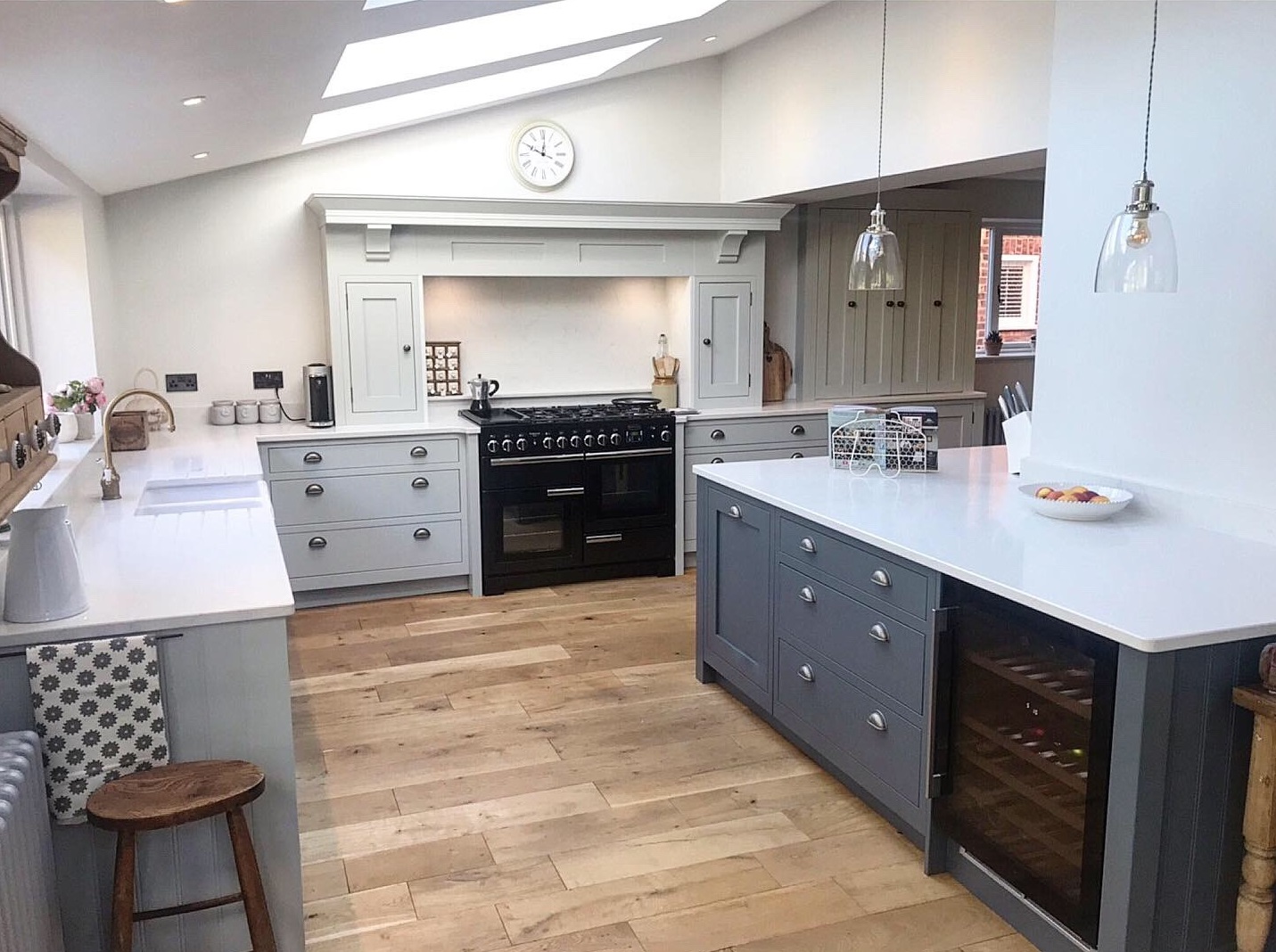 A 1909 Feature Mantle from Concept Kitchens
9. The Glazed Display Dresser
A beautiful stand-alone piece, The 1909 Glazed Dresser demands the attention of a room. As a timeless feature, a dresser will be a practical yet attractive addition to your kitchen design, offering storage below for kitchen essentials, and display shelving above for your treasured possessions.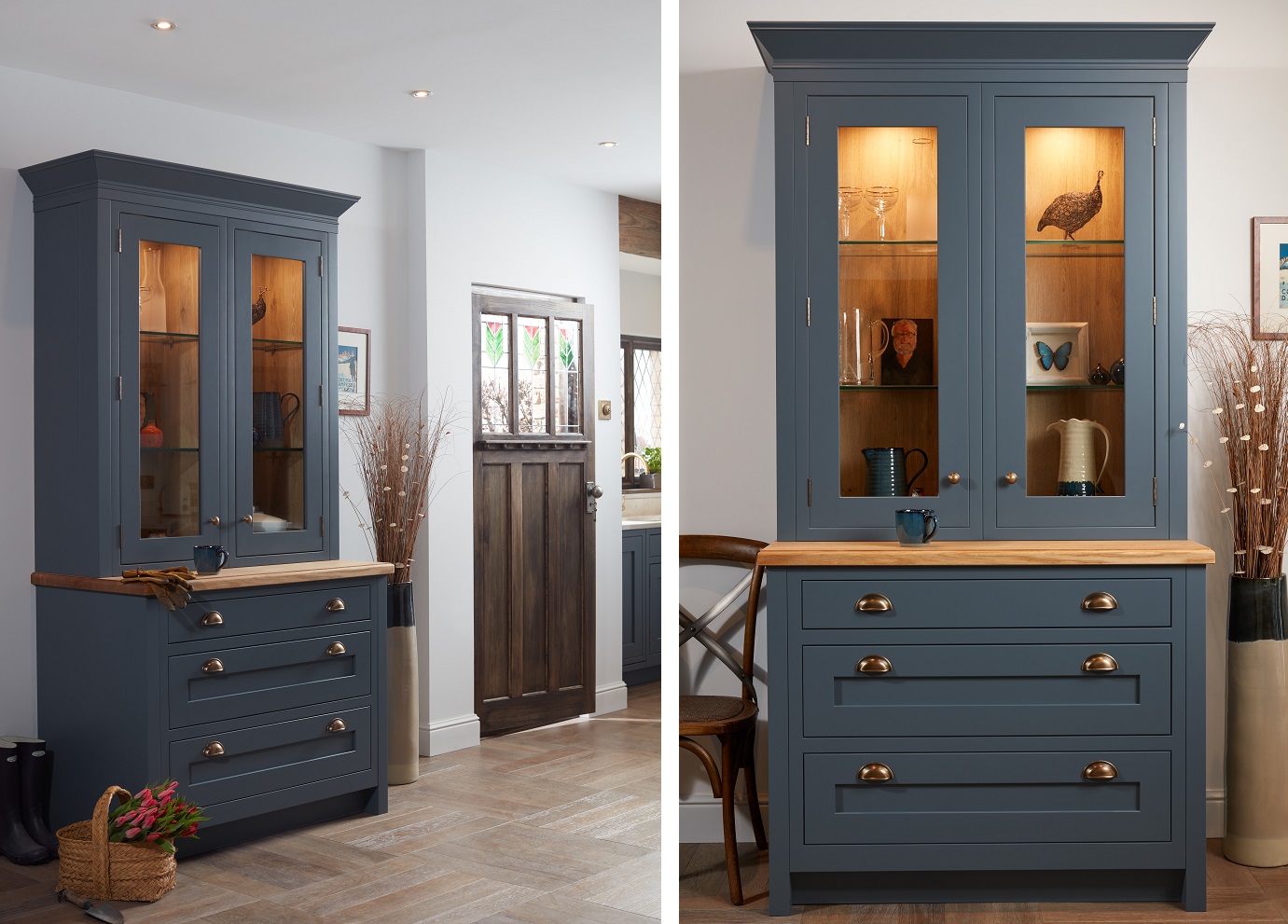 A Storm Blue 1909 Glazed Display Dresser from our Shaker kitchen
Pair the display shelves of your Glazed Dresser with spotlights to illuminate your possessions with pride and bring a warm ambiance to the room.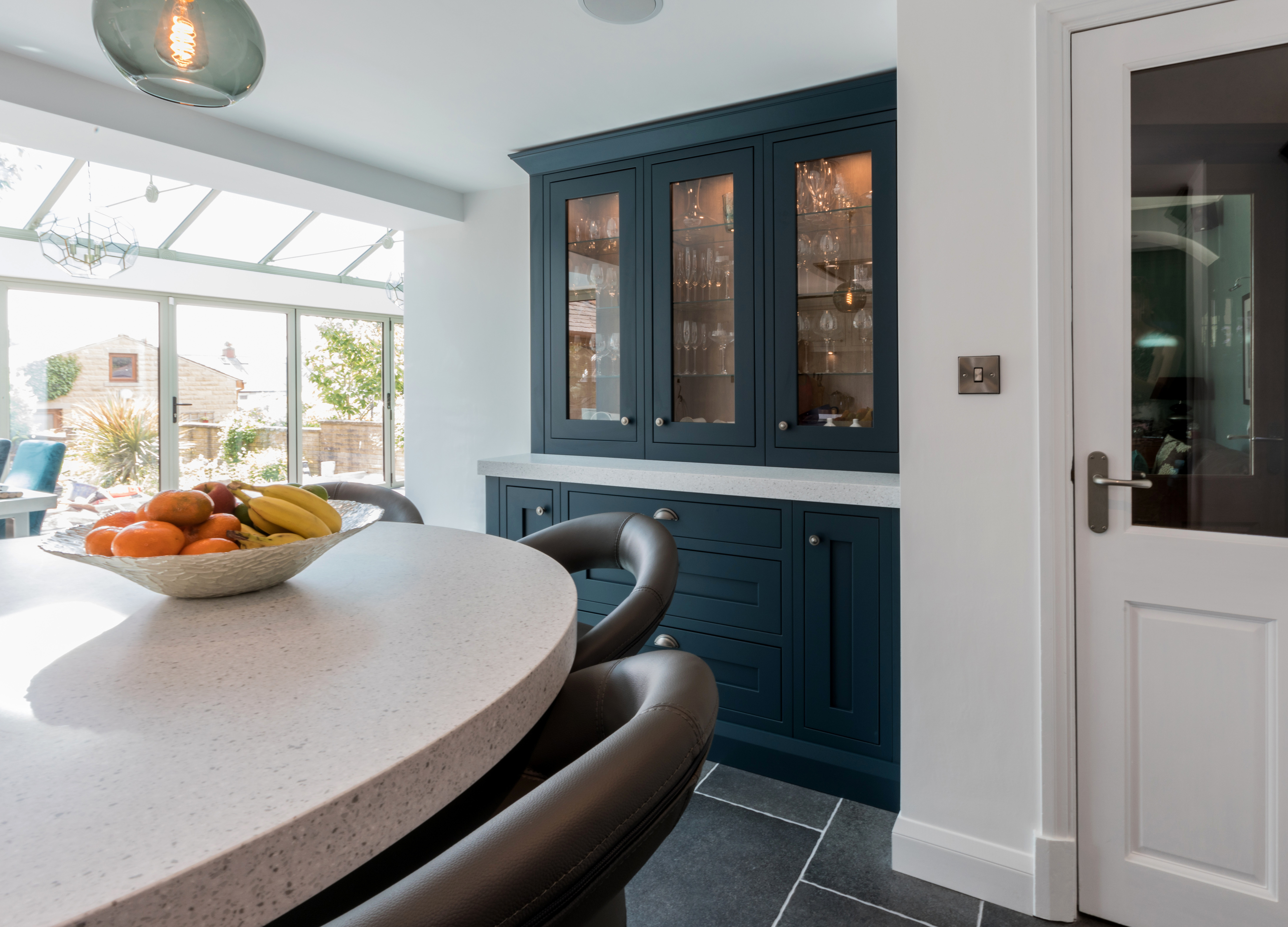 A Bespoke Glazed Dresser from Heart of Your Home Kitchens
10. Bespoke Seating
A bench is a great alternative to standard seating at a dining table, and combining the two (as shown in our Ovolo kitchen below) brings a rustic, classic feel to a kitchen design. With a bespoke 1909 seating unit, you can also integrate dovetail drawers beneath, to maximise storage possibilities.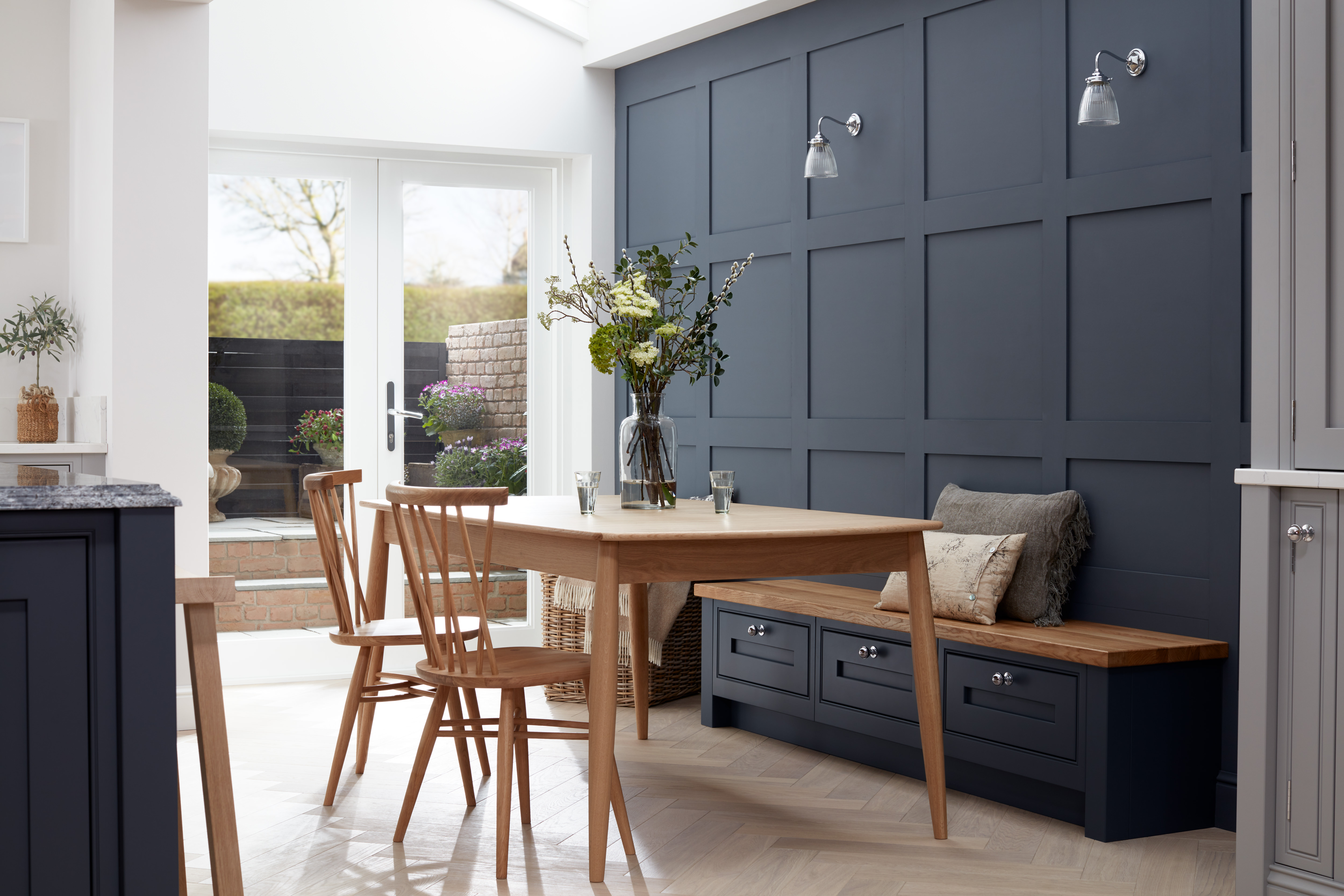 Bespoke Seating with Integrated Storage from our 1909 Ovolo kitchen
Alternatively, bespoke seating can make an attractive feature for an open-plan space, tying a living area and kitchen together and offering an extra place to relax or socialise.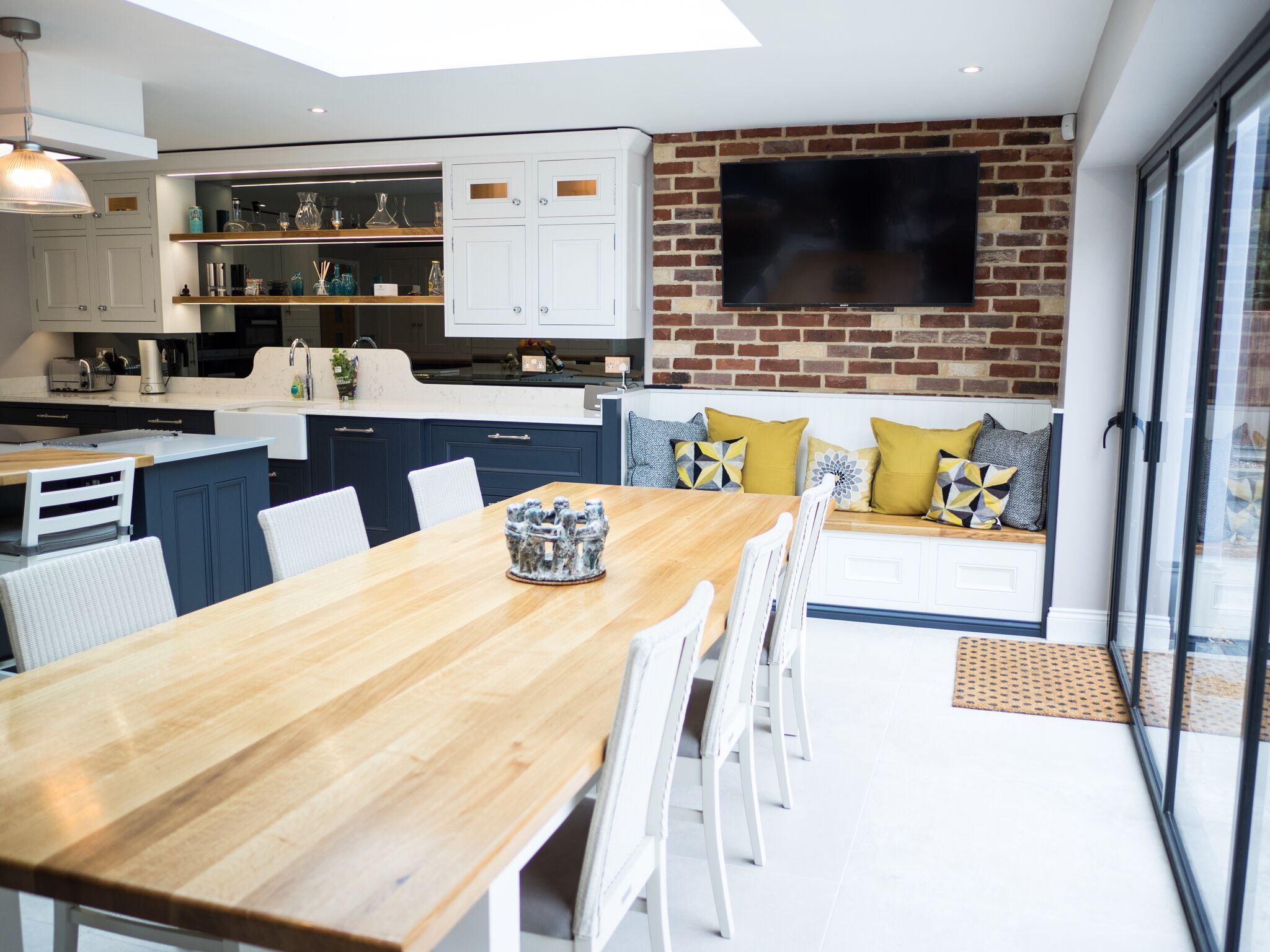 Bespoke 1909 seating from Kitchen Ergonomics
11. The Kitchen Island Integrated Chopping Board
An integrated chopping board is both a practical and attractive design feature to include in your kitchen. The nature of the island-end means you have the perfect place for food preparation, especially with a bespoke scoop on the front edge of the worksurface, designed to make transferring food to pans and bowls a simple, mess-free task!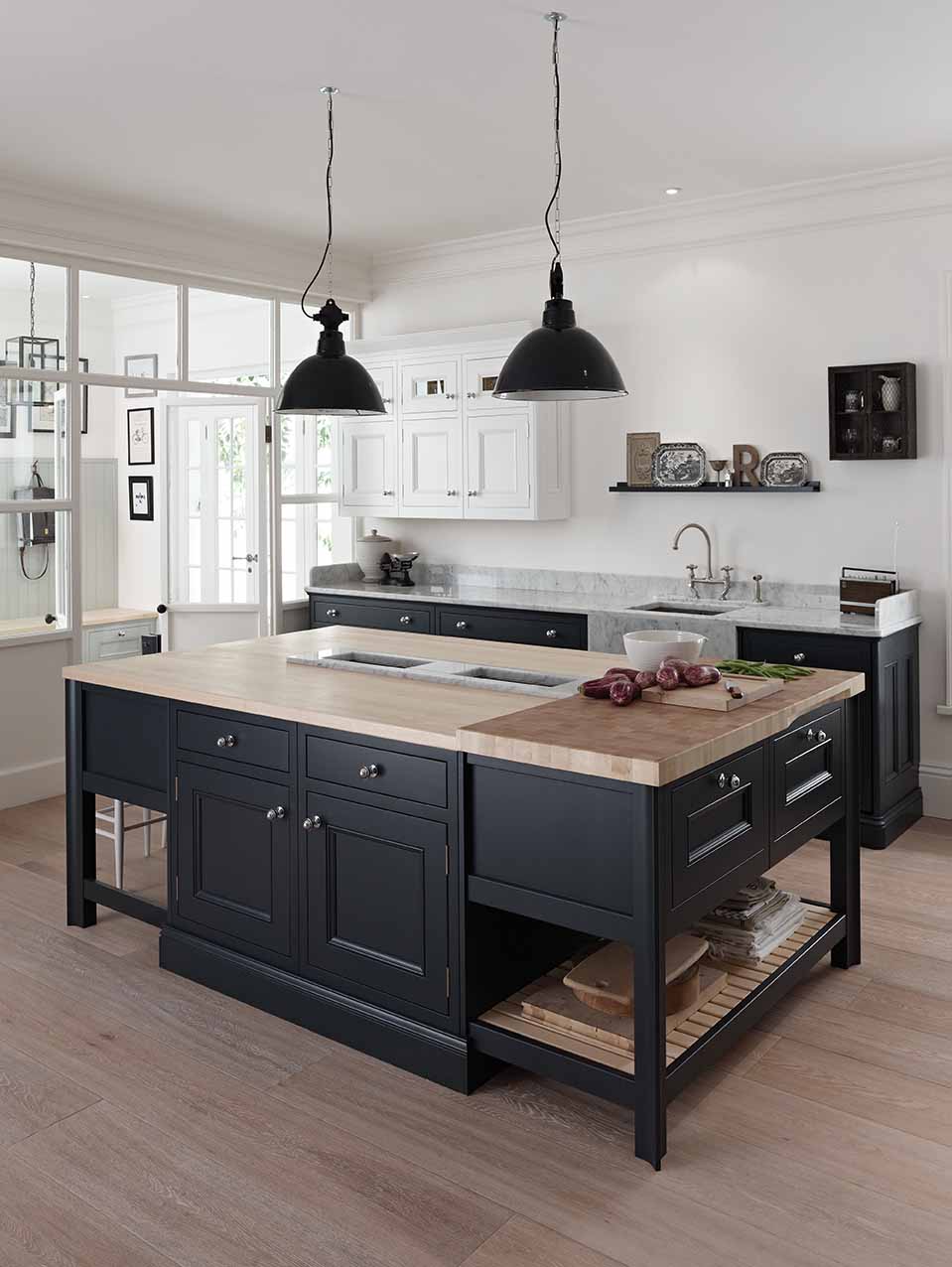 An integrated Oak End-Grain Chopping block in our Half Pencil & Scalloped kitchen
In terms of design, the chopping board allows the mixing of worksurface materials, textures and colours for an eye-catching style statement.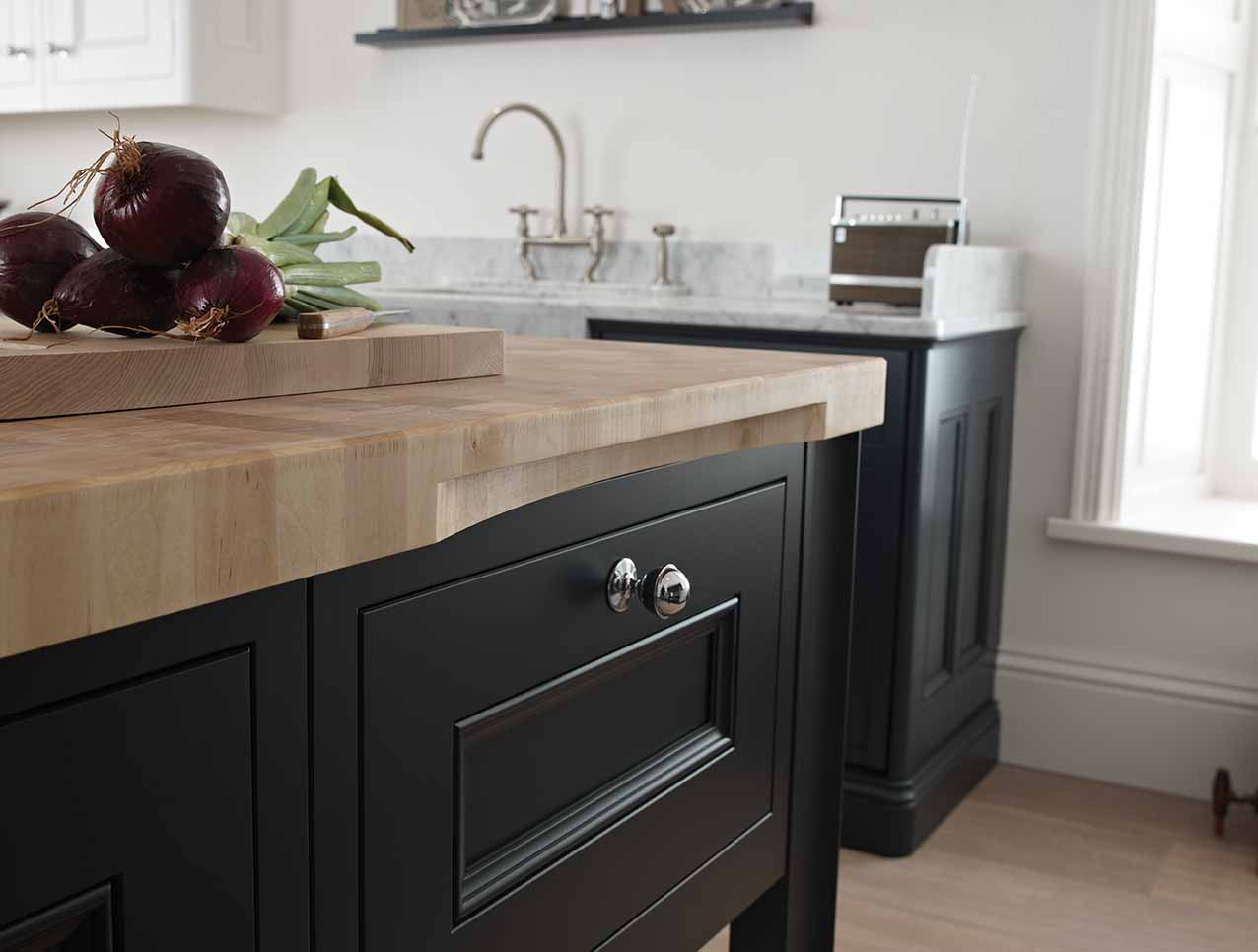 An integrated Oak End-Grain Chopping block in our Half Pencil & Scalloped kitchen
Have we inspired you to consider a range of features for your upcoming kitchen design? Discuss your ideas further and begin your planning process with one of our specialist 1909 kitchen retailers across the UK: https://www.1909kitchens.co.uk/retailers
Want to explore more of what 1909 has to offer? Check out our fully styled kitchen sets and explore our door offering further on the 1909 website or via our brochure (available to download via website).