The health benefits of a Mediterranean diet
This salad is made from a selection of typical Mediterranean staples, with Halloumi cheese, originating from Cyprus, Kalamata Olives, originating from a small town in the southern Peloponnese, and drizzled with Greek Extra Virgin Olive Oil.
The Mediterranean diet is one that has long been held in high regards when it comes to health benefits, with most of its recommendations sitting in the UK's own guides to eating well. It is based on a balanced range of traditional fruits, vegetables, beans, nuts, seafood, olive oil and dairy, and is said to help prevent chronic illness, like heart disease, if eaten alongside a healthy, physical lifestyle.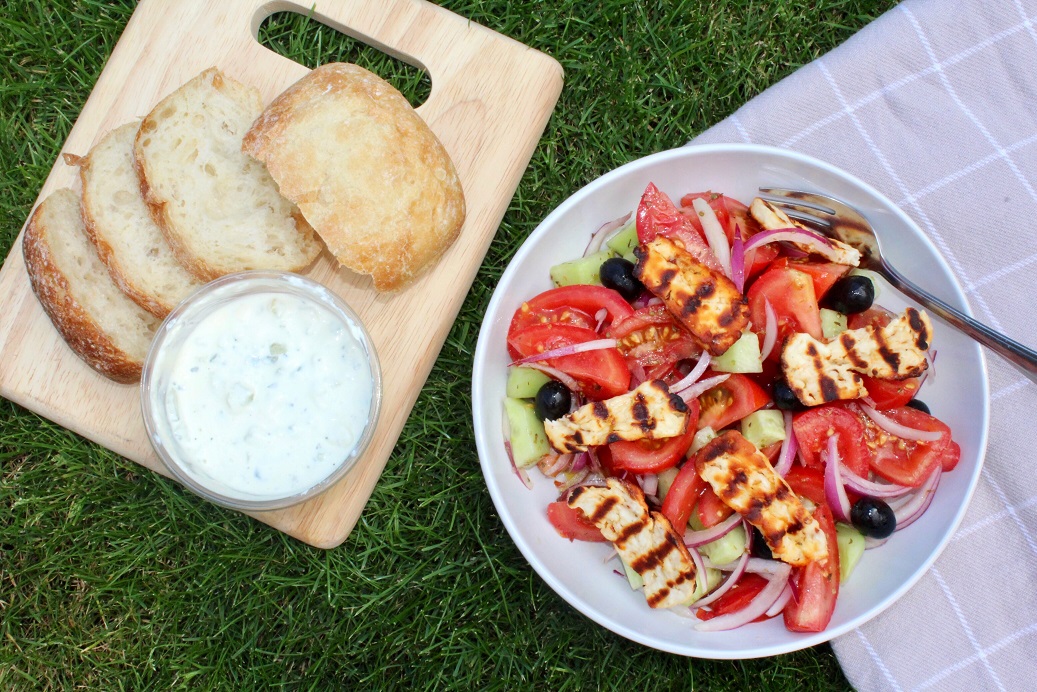 Greek Halloumi and Olive Summer Salad
Colourful, fresh and full of flavour, this Greek salad is quick and tasty, and is the perfect Summer BBQ accompaniment (especially if the halloumi is added fresh from the BBQ).
Enjoy with crusty ciabatta bread and Greek Tzatziki for an authentic Mediterranean experience.
Serves 4 as a side dish, or 2 as a main.
You will need:
Approx 200g halloumi (plain or with chilli if you'd prefer a spicy kick with your salad)
4 vine tomatoes
1/2 red onion
1 cucumber
12-16 Kalamata olives (to taste)
4 tbsp Greek extra virgin olive oil
1 tsp dried oregano
Crusty ciabatta loaf
Greek Tzatziki (shop bought or home made if you're feeling adventurous)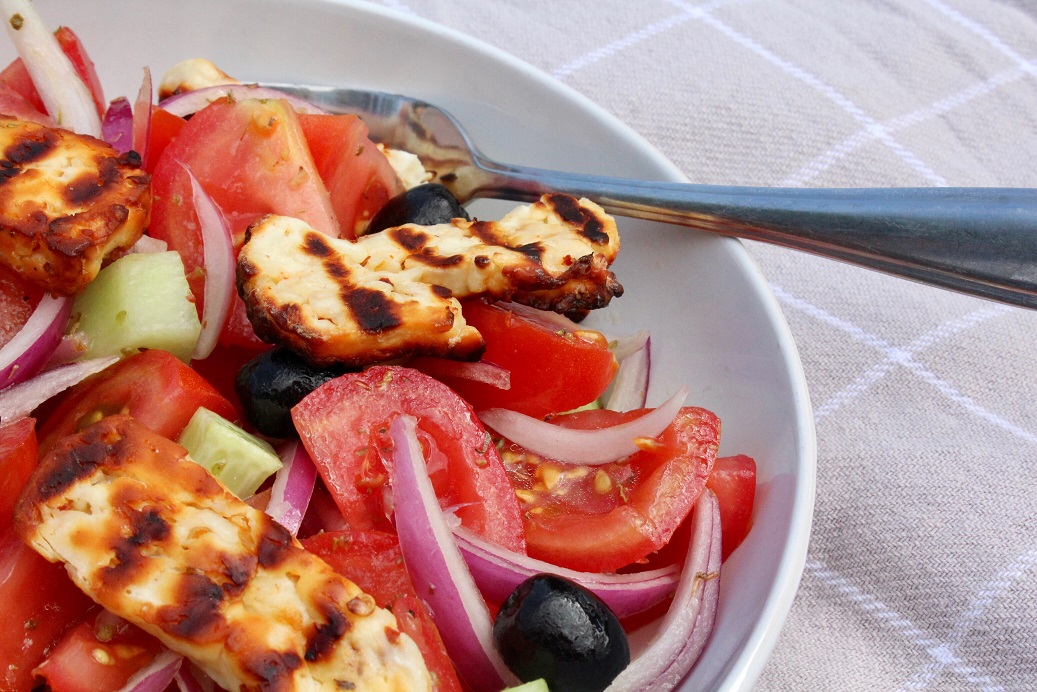 Step 1
First, set your grill, or griddle pan to pre-heat (perfect for sear lines) for the halloumi.
While that's warming, cut your vine tomatoes into wedges, deseed and chop your cucumber (peel if preferred) and slice your red onion thinly.
If your Kalamata olives contain pits, remove these.
Step 2
Place your prepared selection into a large bowl, along with 1 tsp dried oregano and 4 tbsp Greek extra virgin olive oil. Toss together to make sure the salad is evenly coated.
Lightly season to taste.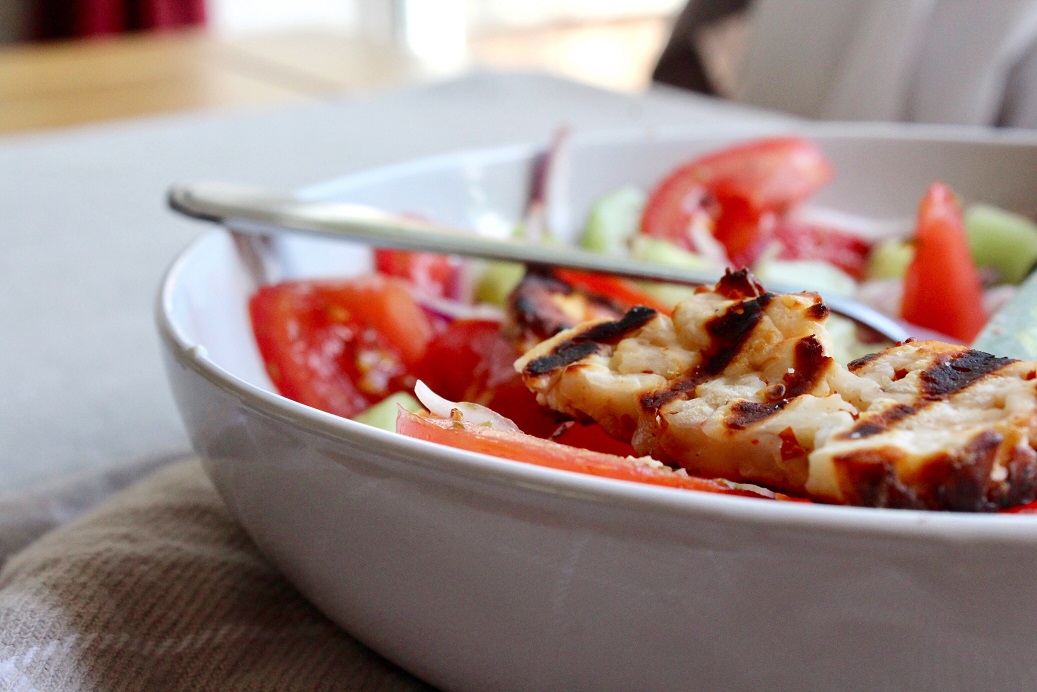 Step 3
Cut your block of halloumi into thin to medium slices, then place in the grill or on your pan.
Leave to cook for 3-5 minutes (keeping an eye on the colour), before flipping and repeating on the other side.
Once cooked to the colour of your choice, transfer to your salad bowl and arrange on top.
Step 4
Slice your ciabatta and serve on a sharing plate.
Serve the salad in the large bowl, or separate if eating as a main meal, and add a dollop of Greek Tzatziki.
Time to enjoy!
Enjoy with a glass of wine and soak up the British Summer sun (or watch the rain from indoors while pretending you're in warmer climates!).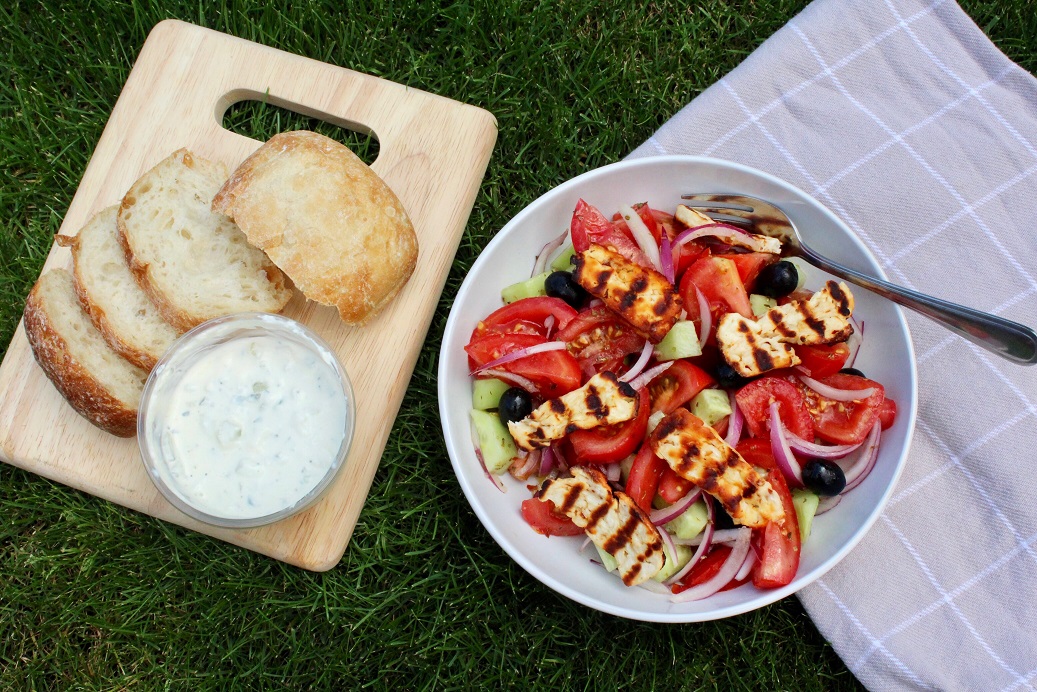 Have we inspired you to make your own Greek Summer Salad?
We'd love to see the end result- share your pictures with us on social media and show us how you enjoyed yours!