The benefits of open shelving
The first thing to note when considering open shelving for your kitchen, whether as a replacement for wall cabinets or an extra feature, is that they add a storage solution to your kitchen with no restrictions. Unlike with units, you won't have to struggle to reach items that are lost in the corners or up high, as shelving allows all of your important items to be easily accessible. Also, with all of your items in plain sight, never again will your guests have to ask where your glasses are kept, making a more welcoming atmosphere.
Another benefit of open shelving is that it can make a space appear bigger and brighter. Replacing wall units with single shelves can open up a room and make it feel spacious, all the whilst increasing storage opportunities.
In terms of how you display your items, open shelving can also be an incentive to get organised. If you struggle to keep your dishware tidy behind the closed doors of a cupboard, then seeing them on display every time you walk in the room will offer the motivation you need to get creative and present your items in an attractive way.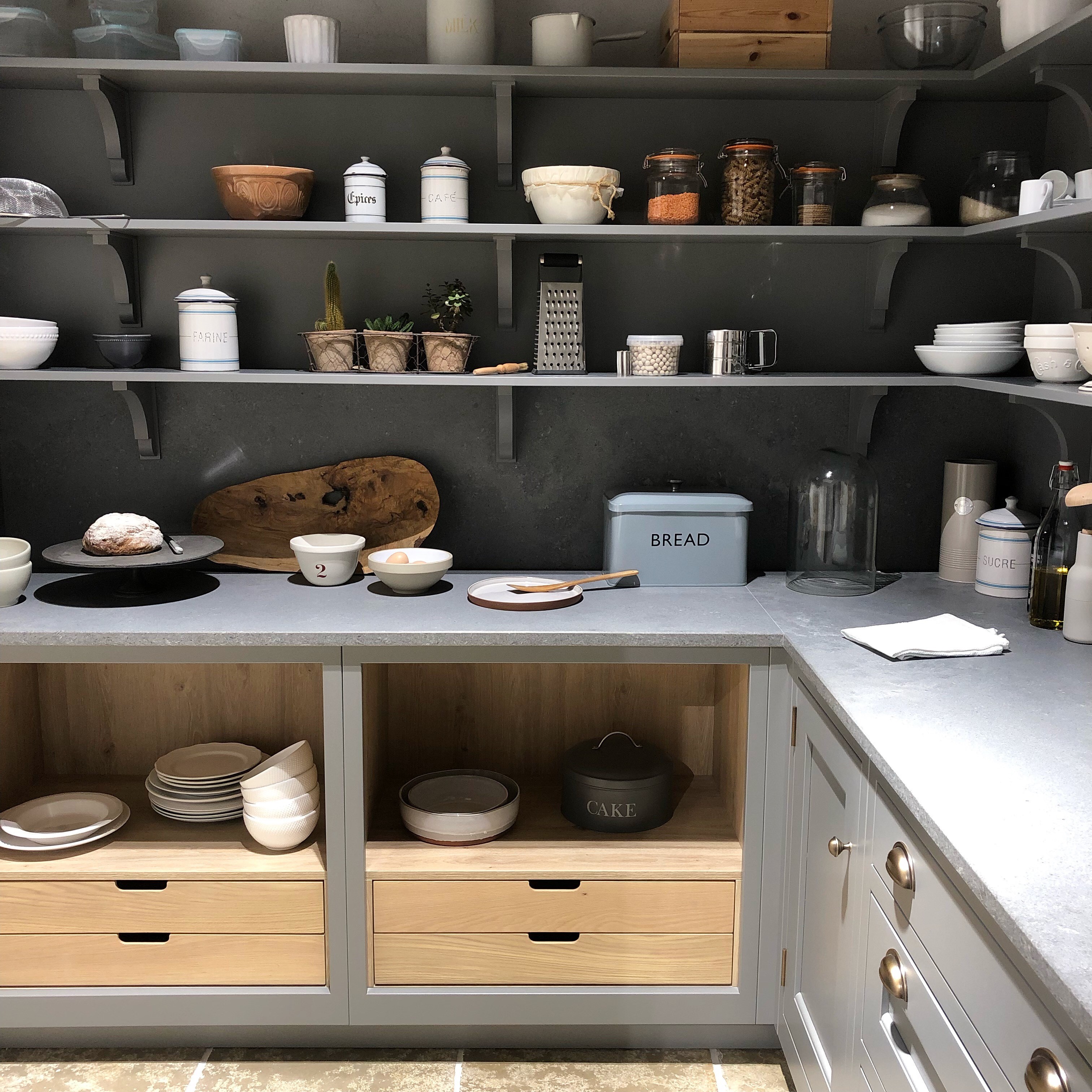 How can open shelving work for your space?

Open shelving is a feature that can be introduced into most kitchens. It can mean completely removing wall cabinets, dedicating one wall to shelving, or just making the most of an empty space you already have which is going to waste. Alternatively, shelving can sometimes be created by removing the doors from existing units, so you're left with ready-made shelving that can be customised to suit your taste.
Don't worry if you can't find shelves that match your existing kitchen. A great way to mix up styles is to use different materials for your shelves. Do you have a modern kitchen? Add an industrial twist with metal shelving. Is your kitchen quite classic? Use natural wooden with raw edges to introduce a rustic feel.
Tip: Is there a floor-to-ceiling space in your kitchen that's empty? Install open shelving to create your own open pantry, for a styling way to store kitchen staples.
Styling your shelves
So, you have your shelves ready to be dressed- now it's time for the fun part!
While offering practicality in terms of easy access and more space for item organisation, open shelving can also be a real design statement in a kitchen, with beautifully displayed crockery, artwork and accessories. We've come up with a selection of tips for styling your shelving, so you can get the perfect balance between functional and attractive.
1.Colour
A great place to start when styling your shelving is by choosing your colour scheme. This doesn't have to be as strict as buying all new plates because they don't match, or hiding away a family heirloom because it's a different colour- it's simply about styling your shelves in a way that's pleasing to the eye.
A neutral palette is a perfect base to start with, displaying standard dishware and utensils, and building up colour as you go. If your items aren't the same colour, or you find some items clash, then divide them up across shelves.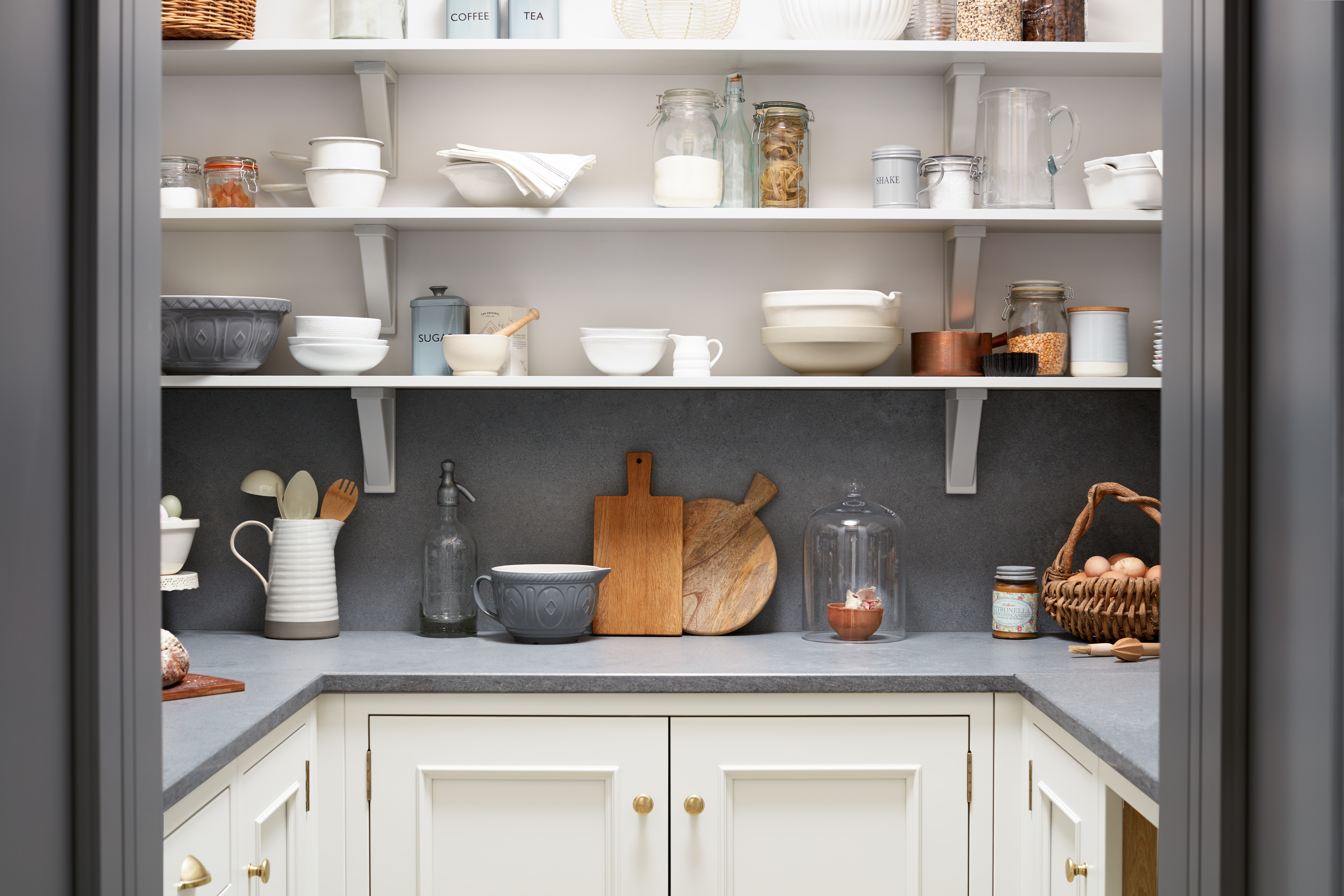 2. Add texture
Once you've stored the essentials, adding different textures to your displays will help bring depth to the space. Introducing wooden chopping boards, woven baskets, coloured jars and mixed metals is a great way to do this.
3. Height
Alternating the height of items on your shelf will work to keep things interesting- whether this is how many cups you stack, the size of jars you use to store food, or layering chopping boards.
This also helps to make items stand out so you can find everything you need quickly and efficiently.
4. Greenery
Shelves are the perfect excuse for bringing nature into your kitchen. Whether it's small cacti, an indoor herb garden, or a leafy hanging plant, any burst of green will help breathe life into your space.
Check out our previous Journal post for Five of the Best House Plants to Improve Your Health.
5. Extend storage if needed
Need more storage than your shelves can provide? Why not free up some of your shelf space by adding hooks to hang a selection of mugs and/or small pots.
6. Finishing touches
If you feel your shelves need a little something extra, why not consider adding art, photo frames or a small mirror? Layer these behind jars or small bowls to create depth.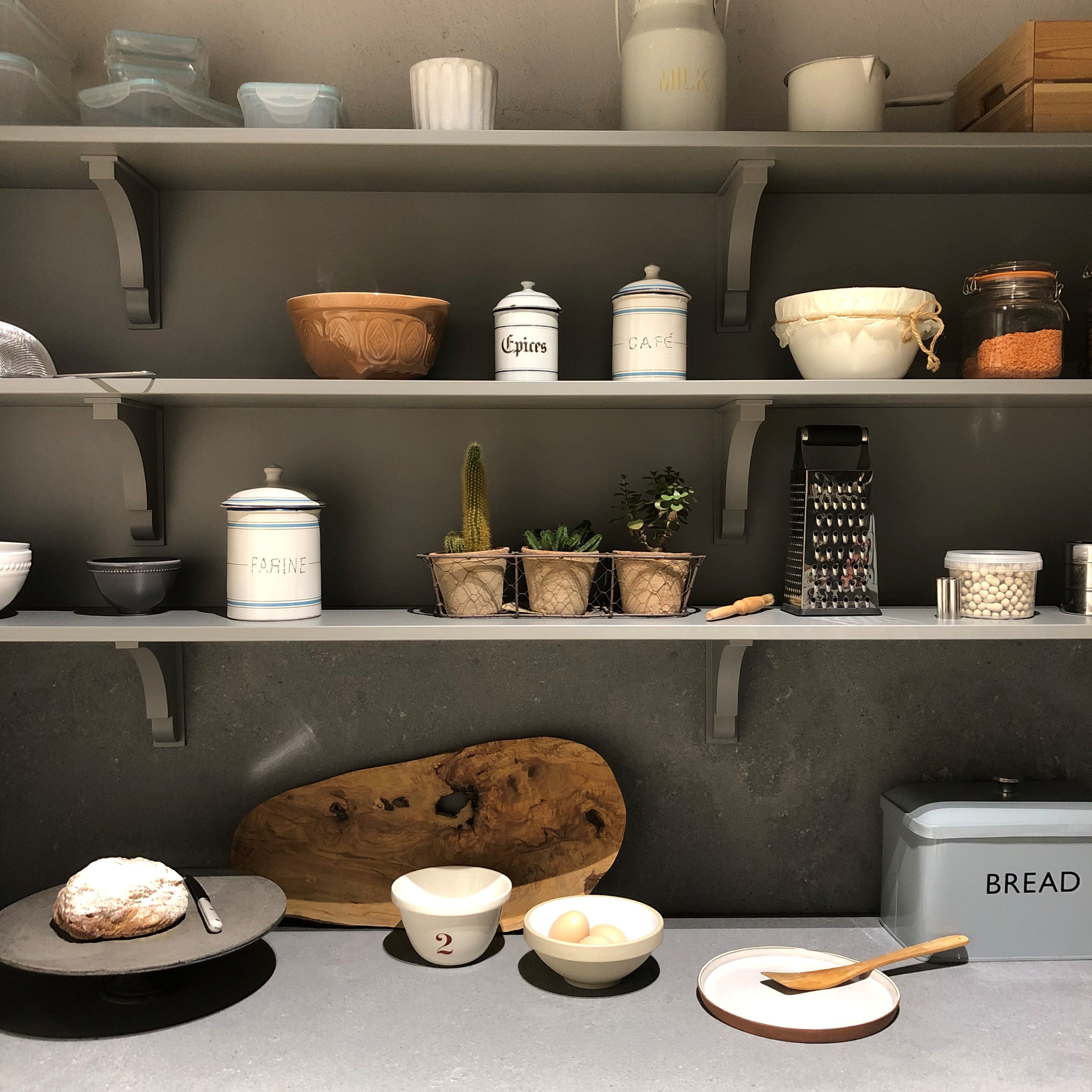 Top picks:

Large rectangular wooden box – H&M £19.99
Artisan Serving Bowls – The White Company £40.00
Grey & Gold Foiled Base Plant Pot – Oliver Bonas £18
2 x White Washed Rattan Trays – Cox & Cox £95

Marble and Copper Bar Tools Set – Oliver Bonas £60
Round Marble Condiment Set – Oliver Bonas £36
Amber Mouthblown Glass Decanter – Lilliandaph £40

Small Wooden Serving Dish – H&M £8.99
Rare Tea Company Glass Teapot – Harvey Nichols £28.95
Le Creuset Pepper Mill – The White Company £32.00
Lidded Metal Jars – Amara £15.50
Need some more inspiration?
Check out how these interior enthusiasts have styled their open shelving on Instagram: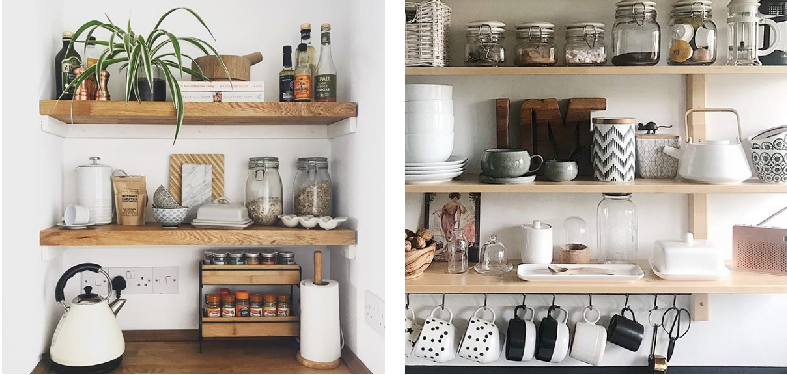 @mind_body_pump @harrybeau_and_i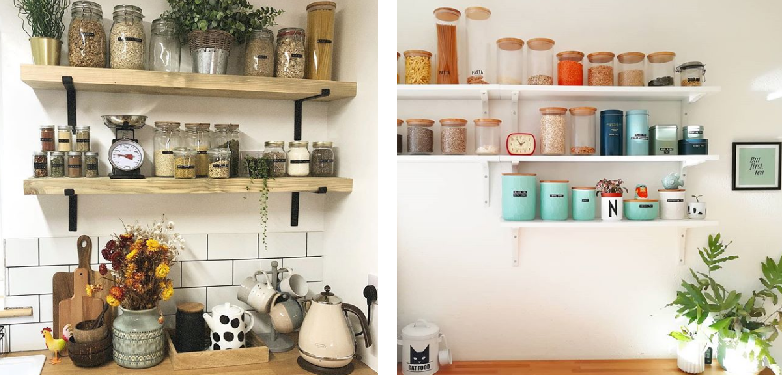 @jeniferrosena @cottoncandystories
Do you have open shelving in your kitchen? We'd love to see how you style it.
Let us know on social media!
Are you renovating your kitchen and thinking about how you could style your space? Check out our real kitchens from across the UK for inspiration.