Why should we add mushrooms to our cooking?
Autumn brings a selection of fresh wild mushrooms to greengrocers across the UK and is the perfect time of year for those who enjoy foraging mushrooms (with the help of experts- not recommended to those who aren't trained). However, many varieties of wild mushrooms are available throughout the year at supermarkets, so the special fungus can be used to create delicious recipes all year round.
All types of edible mushrooms are proven to contain protein and fibre, with different varieties containing vitamin B, powerful antioxidants, and vitamin D (button mushrooms are one of the few non-animal sources of vitamin D). Some types of mushroom have even been linked to cancer prevention, by protecting our cells against DNA damage and inhibiting tumour formation. If that wasn't enough, some studies have shown that mushrooms have therapeutic properties that can help to lower cholesterol, promoting healthy blood flow and protecting the heart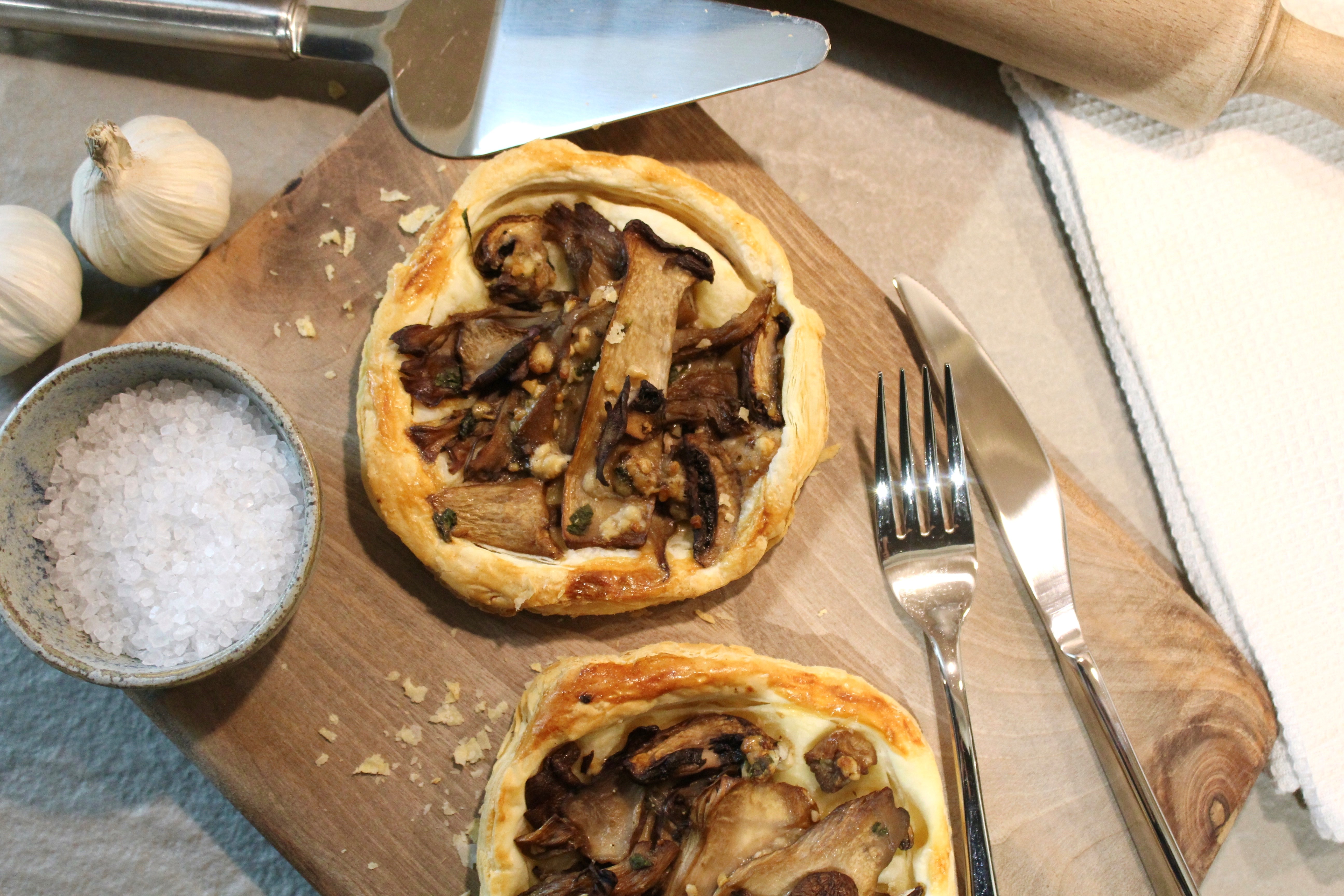 Warming Wild Mushroom Tartlet
A tasty mixture of well-seasoned wild mushrooms, parmesan cheese and fresh garlic, encased in a fluffy puff pastry tartlet makes the perfect autumn warmer when paired with root vegetable mash and a little gravy.
Makes 4 individual tartlets.
You will need:
375g puff pastry (can be bought ready made and rolled in this quantity)
Flour for dusting (if you're using homemade pastry)
15g of unsalted butter
1 egg (beaten)
200-250g of your favourite wild mushrooms (available fresh in greengrocers and most local supermarkets)
50-100g of chestnut mushrooms
25g parmesan
small handful of parsley (chopped)
1 (or 2 to taste) clove of garlic (chopped finely)
Pinch of sea salt to taste
Baking/parchment paper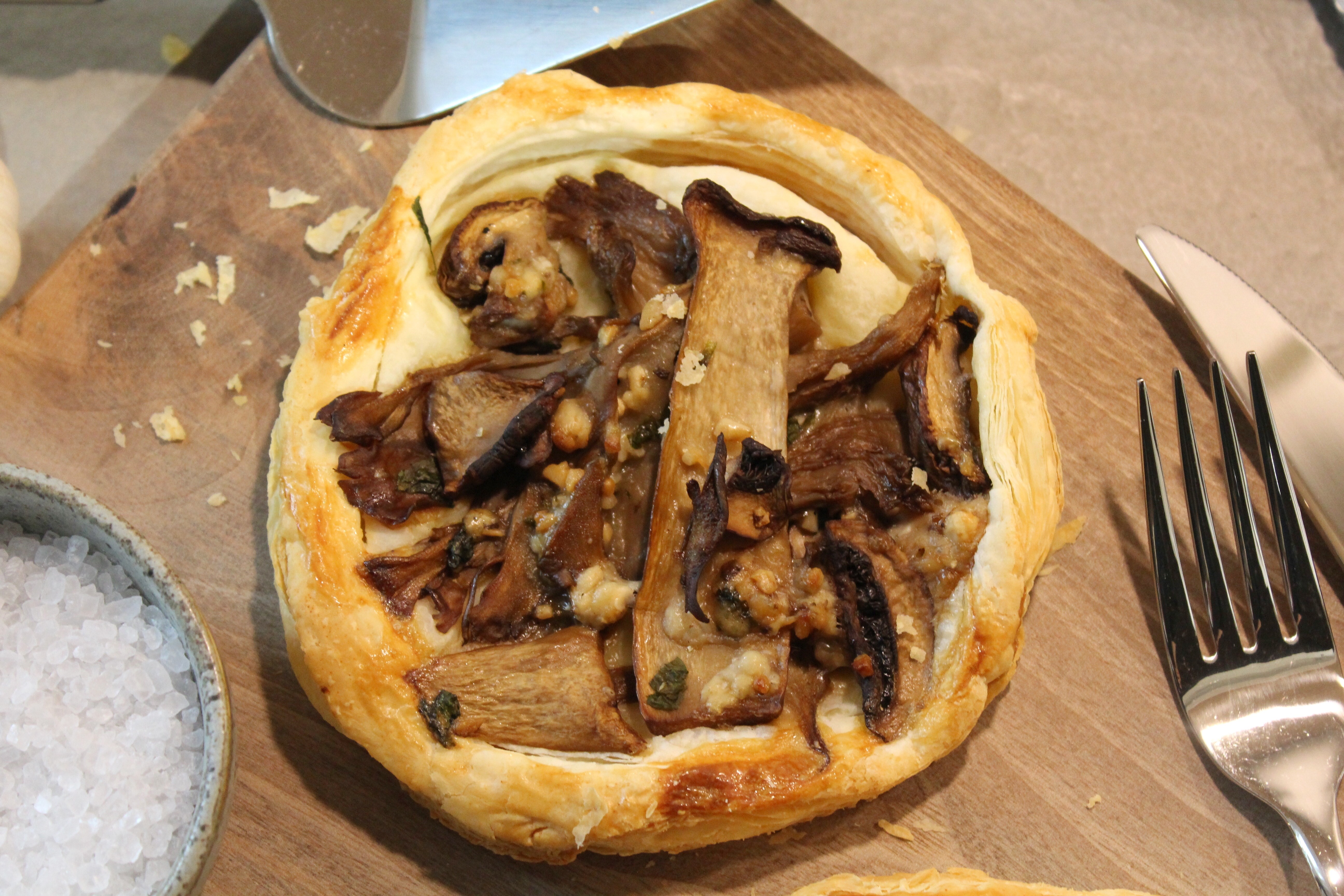 Step 1
Roll out your pastry on a floured surface, or unroll if using ready-rolled, until you can comfortably cut out 4 circles of approx 15cm wide.
Place your 4 circles on a piece of parchment paper then pop them in the fridge to chill while you mix your mushroom filling.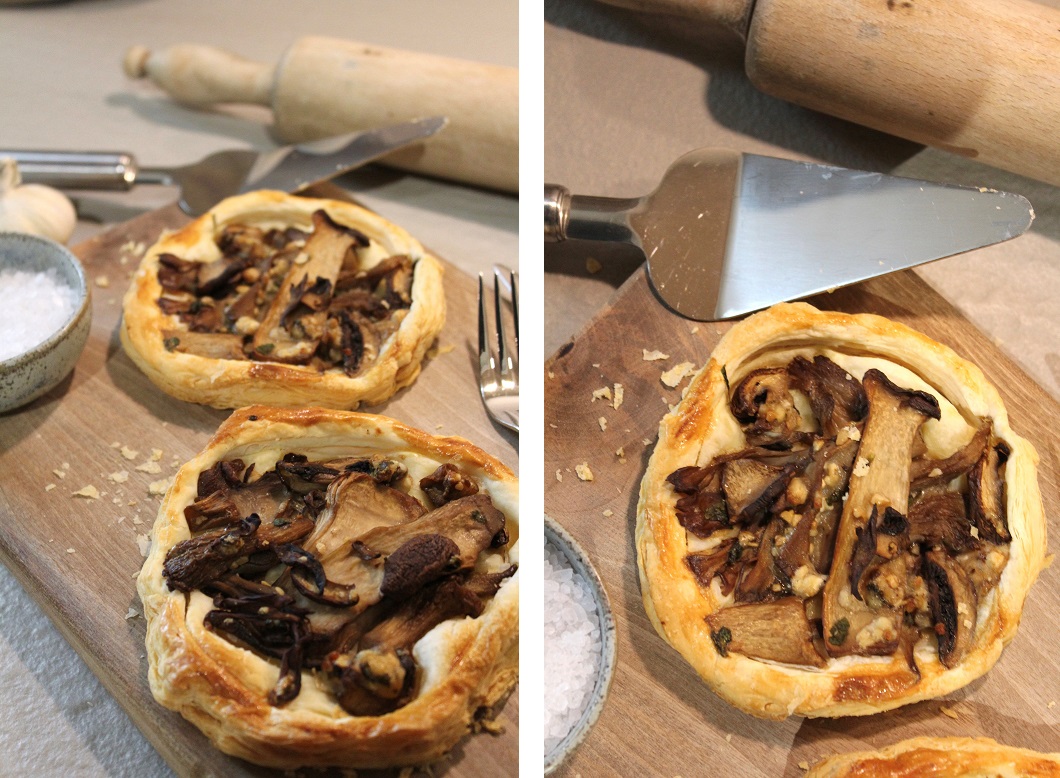 Step 2
Set your oven to preheat at 200C/fan 180C/gas 6.
Wash and chop your wild mushrooms and chestnut as you prefer.
Heat a large frying pan and melt your butter to coat. Fry your mushrooms in the pan for approx 5 minutes, until there is no liquid left in the pan, then season.
Take of the heat, allow to cool for a moment and then add your grated parmesan, chopped parsley and garlic. Toss together until the mushrooms are coated and the cheese is distributed.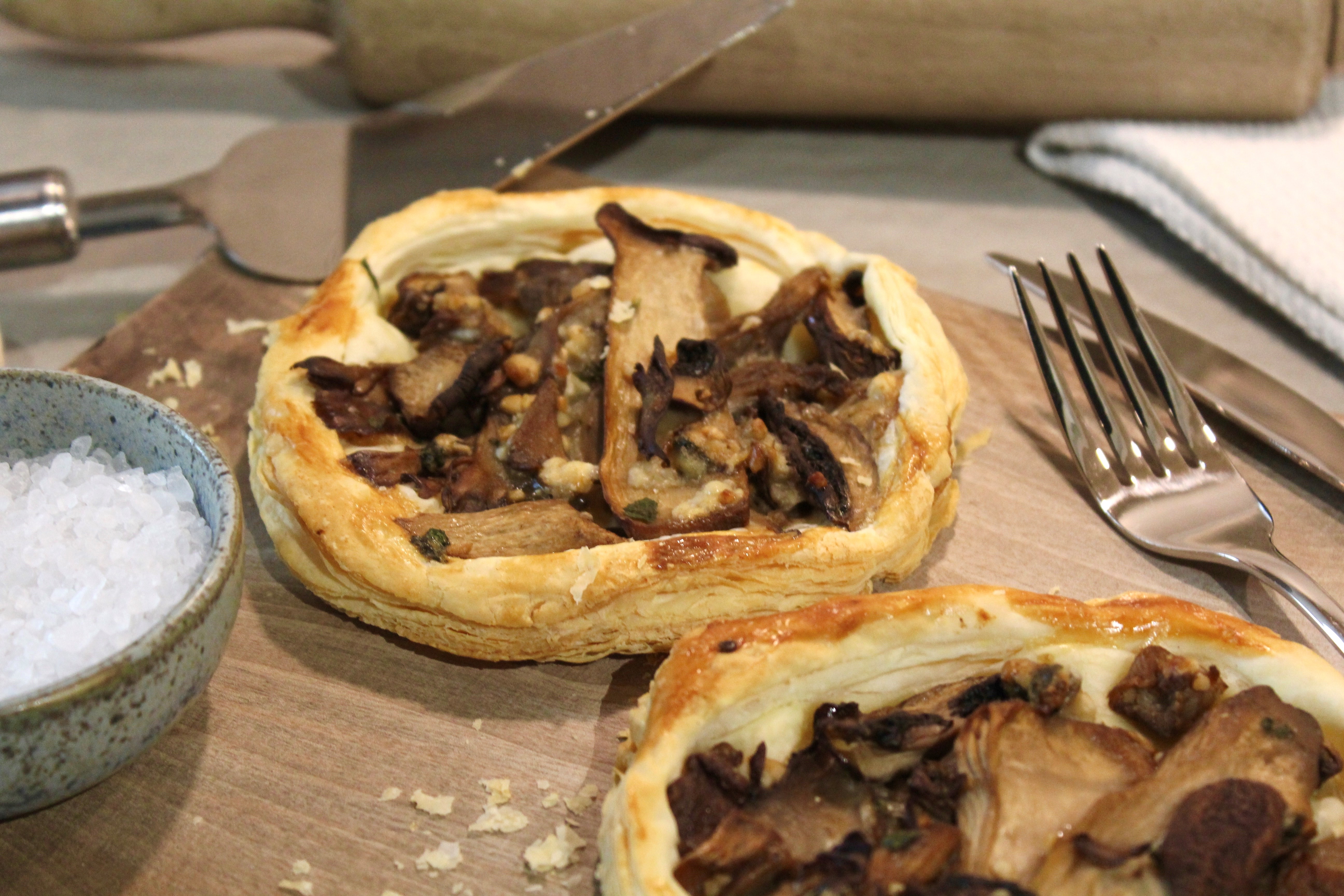 Step 3
Remove your pastry from the fridge and score a 1cm border around the edge of each tartlet with a knife.
Spoon your mushroom mixture into the centre of each pastry circle, going close to the scoring line to maximise flavour.
Brush the edges of your circles with beaten egg, then transfer your parchment paper onto an oven tray. Bake the tarlets for 20 minutes until they are puffed and a golden colour.
Serve immediately, or enjoy on a buffet/in a packed lunch.
Time to enjoy!
Enjoy with a good portion of root vegetable mash, long stem broccoli and a helping of gravy for the ultimate Autumn warmer.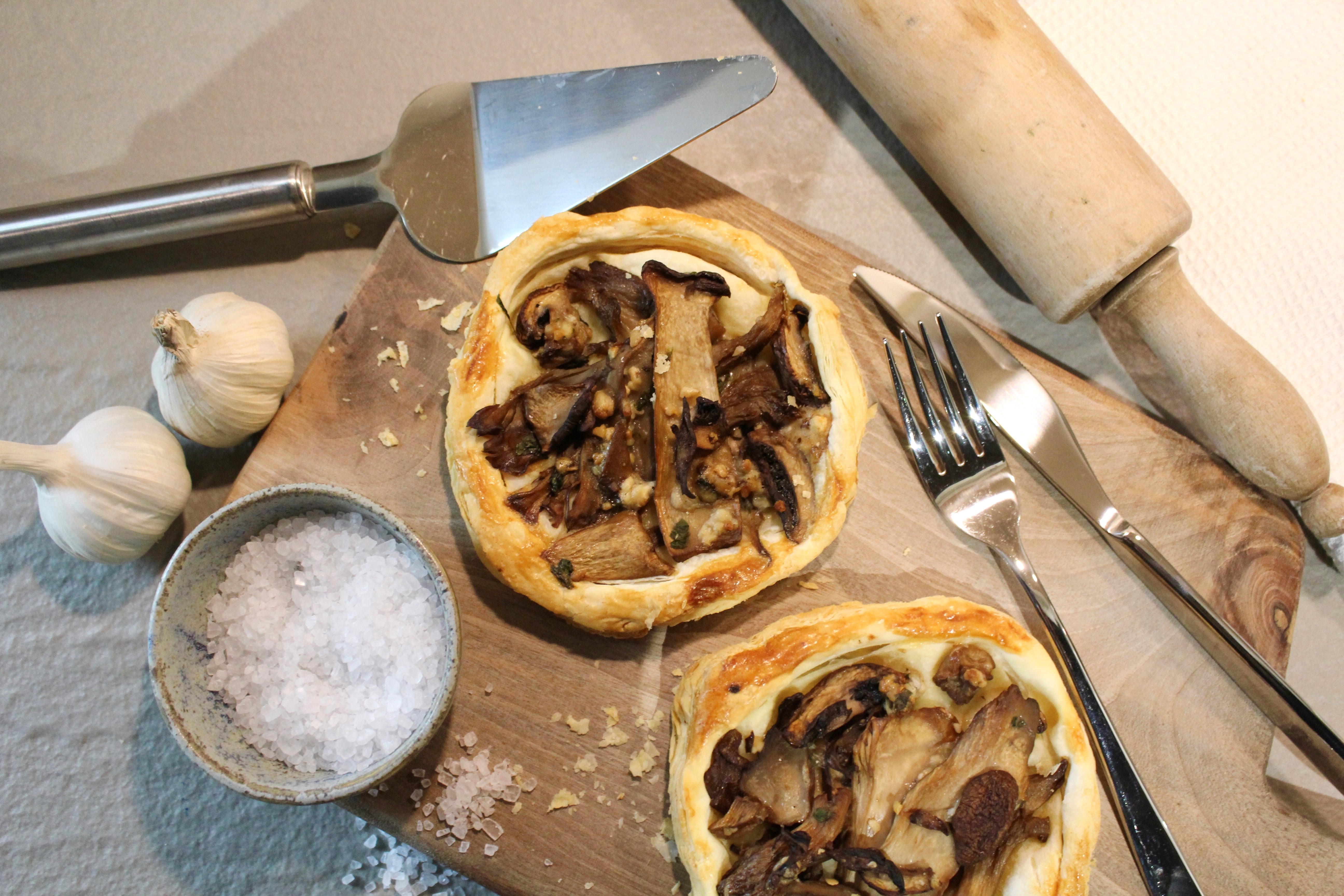 Have we inspired you to make your own Wild Mushroom and Chestnut Mushroom Tartlets?
We'd love to see the end result- share your pictures with us on social media and show us how you enjoyed yours!