For a nation of gin lovers
During the ample time most of us have spent at home over the past year, the blurred lines between kitchen and living spaces have become more apparent than ever, with the family gathering to dine, prepare food, be creative, teach, work and relax, all in one place. This has made us examine the functionality of our spaces through new eyes and has seen an increased demand in free-standing, homely pieces of furniture, such as pantries, dressers and drinks cabinets, to tie open-plan living and kitchen areas together seamlessly.
Besides a deeper appreciation for our loved ones and the homes we've been blessed with, lockdown has also made one other thing abundantly clear; that we're an undeniable nation of gin lovers. Thanks to the many 'nights in' that the last year has brought us, the latest market report from the Wine and Spirits Trade Association has shown that over ten million extra bottles of gin were bought from UK retailers during 2020, compared to the same period in 2019.
So, with the long-awaited return of welcoming and hosting guests in our homes within reaching distance, we see no better time to introduce you to The 1909 Gin Cabinet* – our exquisitely crafted, free-standing feature cabinet- a statement piece of furniture that will bring an element of luxury to any night in, and the perfect place for you to store those treasured bottles of gin!
*Disclaimer, the gin cabinet does not discriminate against other alcoholic, or even non-alcoholic beverages of choice and despite its name, can be used to store an array of drinks…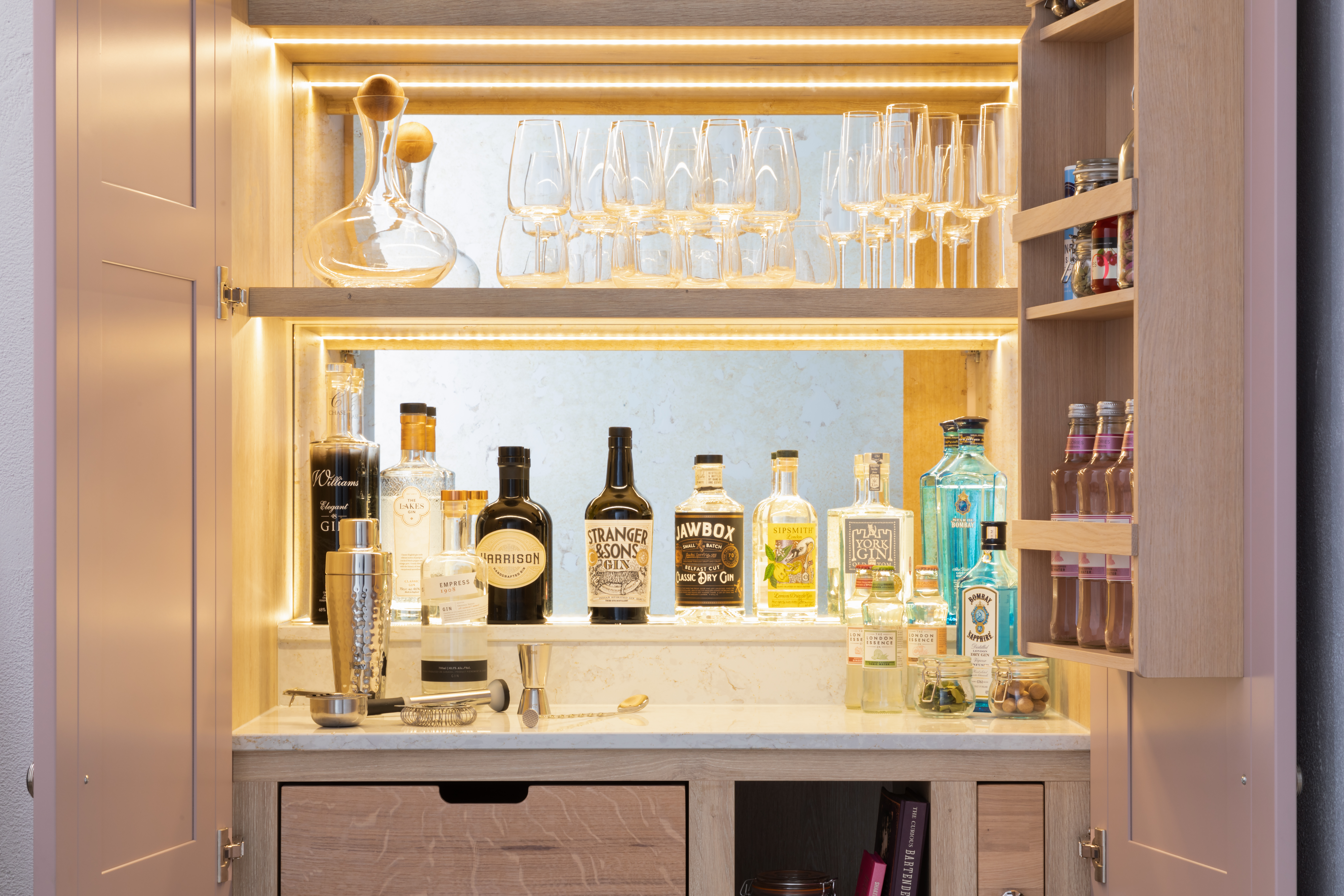 Designing the perfect home bar
With beautiful attention to detail, our Gin Cabinet would make a stunning accompaniment to your 1909 Kitchen and bring luxury to every night in- but what is it that makes this feature so special?
We're exploring the carefully curated elements that come together practically and aesthetically to make The 1909 Gin Cabinet the perfect home bar.